Vietnam Embassy in USA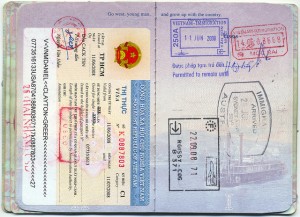 Vietnam Embassy in The United states is an office for communication between Vietnam Government and The United states. It operates as the official representative of Vietnam in The United states. People in The United states can come for information about Vietnam Visa or Vietnam Immigration information.
U.S citizens can apply a Visa to Vietnam by 2 ways below:
– Contact one of Vietnam embassy or consulate near your home to apply the Vietnam Visa directly with them.
– You do not need to come to Vietnam embassy or Vietnam consulate to apply the Visa. All you need to do is apply the Vietnam Visa online and then get the Vietnam Visa at Vietnam airport (also called Vietnam Visa upon arrival).
–> Check how Vietnam Visa online run?
Are you looking for location of Vietnam embassy in USA ?
There are embassy and 2 consulates of Vietnam in United States (USA), please see information below :
Embassy of Vietnam in United States (USA)
Address: 1233 20th St NW, Suite 400 – Washington, DC 20036, United States (USA)
Telephone: 202.861.0737
Hotline for Consular Affairs: 202.716.8666 or   202.739.1666
Fax: 202.861.0917
Email : info@vietnamembassy.us (for general information)or vnconsular@vietnamembassy.us (for consular affairs)
Website : www.vietnamembassy-usa.org
Consulate General of Vietnam in Houston, Texas, USA
5251 Westheimer Rd, Suite 1100, Houston, Texas 77056, United States
Tel: 713-850-1233 | 713-840-0096
Fax: 713-840-0159 | 713-871-0312
Website : www.vietnamconsulateinhouston.org
Consulate General of Viet Nam in San Francisco, USA
1700 California Street, Suite 430, San Francisco, CA 94109, California, USA
Tel:                 415-922-1707 ext. 115
Fax:                415-922-1848; 415-922-0307
Web address:          www.vietnamconsulate-sf.org
USA
Native Name: United States of America
ISO-Code: USA
Capital: Washington
Principal Cities : New York, Los Angeles, Chicago, Houston, Philadelphia, Phoenix, San Antonio, San Diego, Dallas, San Jose.
Please click here for Vietnam visa inquiry.
Tag: Vietnam visa in USA