Phu Quoc Island – The Top Five Ideal Destinations In This Autumn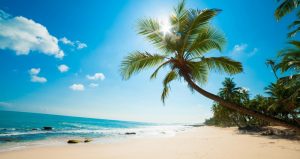 According to CNN, Phu Quoc Island of Vietnam is selected to be the top five destinations to visit this autumn. It was no accident that Phu Quoc was in this list.
Phu Quoc Island is a very beautiful island located in the South of Vietnam, which is only 1 hour from Ho Chi Minh city by air. This island is full of funny activities such as Safari World, Vinpearl theme park, snorkeling, swimming, etc. Especially, many people come to Phu Quoc is to enjoy the beach. There are many nice beaches from the North to the South of the Island. The famous ones are Sao beach, Long beach, Khem beach, Truong beach, Ong Lang beach, Vong beach, Ganh Dau beach, Thom beach, Rach Vem beach, Vung Bau beach, Ba Keo beach, Cua Can beach. Tourists come and choose the beach they like, laying on the white sand and enjoying it. After that, tourists can get on the boat and come to the sea with snorkeling or deep diving. At night, tourists love to join a squid fishing tour which make them relaxed and enjoyable.
Besides, there are many beautiful attractions to visit. Tourists can come to the Phu Quoc prison to know more about the historical period in this island many years ago. They can also come to the temples and the shrines to know more about the belief and religious of the inhabitants in Phu Quoc. For those who love the nature, the Phu Quoc national forest trekking or Tranh waterfall should be their options. For those who love the local products, they should come to the pearl farm, fish sources factory, Sim wine factory or the pepper farm. The pearl farm provides them the pearl and jewelry product to see and buy while Sim wine factory offers them to taste and use some local products produced from Sim tree. They will see fish sources production procedure in fish sources factory. At pepper farm, you can see the famous type of pepper tree in Phu Quoc, which produces the Phu Quoc pepper.
In this autumn, the weather is very good to plan a trip to Phu Quoc. There is a dry season from November to April in Phu Quoc, so tourists like to visit this island this time. There are few rains, and Phu Quoc is extremely beautiful with nice bright sunshine at this period.
One more important thing to attract tourists in Phu Quoc is the food. Sea foods are too famous for foreigners and local people when they are talking about Phu Quoc. The fresh sea food with cheap price and delicious taste makes people unforgettable about this island. Raw herring salad, Ham Ninh Flower Crab, Sea urchin, DYI shrimp squid noodle soup, sour and sweet fish soup, etc. are some among many famous dishes in Phu Quoc.
Last but not least, there is a visa exemption policy for foreigners to visit Phu Quoc (staying less than 30 days in Phu Quoc do not need a visa). Therefore, the number of people coming to Phu Quoc increase day by day. Do not miss this island in your list this autumn!
TOURIST VISA
Getting approval letter for picking up Vietnam visa on arrival at International airports of Vietnam (for international flights only).
BUSINESS VISA
Getting approval letter for picking up Vietnam visa on arrival at International airports of Vietnam (for international flights only).
E-Visa Vietnam - 30 days single entry
E-Visa holders just go straight to the passport control to show e-visa for checking & then get stamp on your passport for entry 30 days, no need to pay any amount.
loading...
No additional fee on arrival
loading...
No additional fee on arrival