October 4, 2018
Vietnam E-visa
How to Apply Vietnam E-Visa Online
To apply E-Visa, you need to follow these steps:
Step 1: Check to know whether you are in list of countries which can be applied E-Visa or not.
There are 80 countries + 2 territories which can be applied Vietnam E-Visa. Please see the list here.
Step 2: Fill in your personal information and choose the visa you want to apply.
Click here to apply and fill out personal information
Nationality
Purpose of visit (tourist or business). Tourist e-Visa is used for those who enter Vietnam for tourism purpose. Business e-Visa is used for those who enter Vietnam for working purpose.
Visa type: In this category, you choose "evisa – 30 days, single entry"
Port of arrival & exit (Choose one among 8 International airports + 16 Land-crossing borders + 9 Sea Ports). Note that you can only enter & exit the ports you indicate when applying, so please carefully choose the right one.
Entry date: The date you enter Vietnam.
Exit date: The date you exit Vietnam.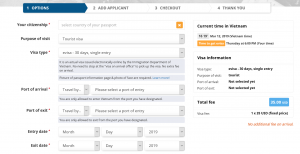 Email: There are two places to enter two email addresses, you should type both. Please note that you get the approval letter via email, so please type your email correctly. In case you type wrong email, you will not receive your visa approval letter.
Upload passport copy & digital photo (file must be in PDF, JPG, JPEG, PNG, or BMP. Maximum size can be uploaded: 10MB)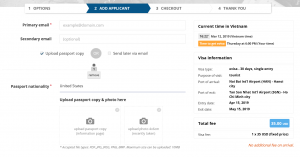 Step 3: Make online payment  
After completing to fill in the form, you will receive an online payment notification. At this step, you can make payment by Credit card via PayPal. It is safe and easy to do. After finishing to make payment, you immediately receive an email informing about your order with detailed information. Your job is to wait for the result. It takes about 2 working days for basic services or faster if you choose urgent services.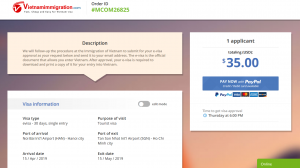 Step 4: Receive E-visa
Within 2 working days, we send to you an email with E-Visa attached. You have to check carefully to make sure the information is correct. If there are any mistakes or errors, you need to contact us to revise it to the correct one.
When you come to Vietnam
With the fact that you receive E-Visa and print it out, you officially obtain visa to Vietnam without coming to "Landing visa" or "Visa On Arrival" counter to get the visa like Visa On Arrival. You are not required to pay any extra fee when you arrive Vietnam (like stamp fee when you apply Visa On Arrival). You only hold a copy of E-Visa in your hand and check out the immigration gate. These things are your guidance:
Print a hard copy of E-Visa to show for boarding airplane and it is required to show at Immigration gate to enter Vietnam
Note that your original passport must valid at least 6 months from the arrival date with at least 2 blank pages.
Special supporting packages:
For E-Visa, you still have some special supporting packages:
Express service: It takes 2 working days for processing visa, excludes Saturday, Sunday & Holidays. If you need the visa urgently, you can add on this service. This service allows you to get your visa within 1 working day or 2 working hours.
On Arrival Support: You normally queue and do check-in procedure at the passport control when you arrive. With the VIP support, the staffs meet you in front of the passport control with a welcome board, then escorting you to check out via the VIP gate.
Depending on the service you choose, you have to pay the extra money. Please check with the sponsor you apply visa to know the fee exactly.