Extra Service
How To Buy Fast Track Airport Support And VIP Check-in Services When Coming To Vietnam? – Vietnam Visa Service 2020
Setting foot in any country always has certain difficulties. Vietnam is also the same. Visa and Immigration procedures in Vietnam always take a lot of time and make visitors stressful. Businessmen who come to Vietnam to work, travelers who want to get visas on arrival at the airport, pregnant women, the elders, children, and those who hate cumbersome administrative procedures, etc. always want to find the ways to minimize risks at the airport and minimize the long processing time for these procedures. So, do Vietnam airports have airport support service and VIP check-in service? How do these services work and how to register? Please read the information below.
Difficulties encountered when coming to Vietnam airport
a / Language barrier
Language is one of the biggest barriers when traveling abroad. With the global development trend, Vietnam now uses English as a second language, but the level of language use in Vietnam is very limited. Except for young people who can communicate in English very well, older people often don't know English. At the airport, English is more commonly used. Customs officers and aviation staffs can speak English. If you come to Vietnam airport (especially 2 biggest airports in Hanoi and Ho Chi Minh City), you can use English to communicate. However, not everyone who comes to Vietnam has a good English. And not all airport staffs have good English pronunciation. Communicating in a language which is not your mother tongue always has some problems.
b / Barriers to obtaining a visa at the airport
To obtain a visa on arrival, you need to prepare your approval letter, passport, photo and fill in the visa application form at the airport. For those who use the visa on arrival for the first time, or those who come to Vietnam for the first time, it will be a bit strange for the procedure and how it works here. Of course, each country has its own characteristics, nowhere is it like, and you cannot fully understand the operations and procedures to get the visa on arrival quickly.
c / Barriers to entry procedures
Entry to a country is always closely monitored. It is true for Vietnam as well. Even if you have a visa, you need to queue up the line of people waiting for their entry, then give your passport, visa and boarding pass to the customs officer to get an entry stamp. This process takes a long time, and sometimes it is longer if someone in your line is required to do more checks. Or when you have a problem with entry.
Airport fast track support services and VIP check-in services – solutions to solve all problems at the airport.
Currently, at all international airports in Vietnam, there is a service to support all Immigration procedures and fast track service. You can contact in advance and book this service when coming to any airport in the following lists:
– Noi Bai International Airport in Hanoi,
– Cat Bi International Airport in Hai Phong,
– Da Nang International Airport in Da Nang
– Cam Ranh International Airport in Nha Trang
– Lien Khuong International Airport in Da Lat
– Tan Son Nhat International Airport in Ho Chi Minh
– Phu Quoc International Airport in Phu Quoc Island
With this service, you will solve all problems that may be encountered when arriving at Vietnam airport:
You do not need to know Vietnamese, do not need to know English, you can still enter Vietnam quickly and easily.
When you arrive at the airport, the airport support staff will pick you up and do all the procedures in order to help you to enter conveniently.
If you are planning to get a visa on arrival at the airport, you do not need to worry about queuing and complicated procedures at the airport. You only need to give your passport and approval letter to the support staff, who will complete the procedure for you in an extremely short time.
You can also remove concerns about queuing for entry, because when you use the airport support service, you can enter the VIP gate. You just need to go straight through and don't need to wait in line.
How does this airport support service work?
To register for airport support service, you need to go through the following steps:
Step 1: Register online for airport support service 
You just need to fill in the online form to request the airport support service, including personal information, arrival airport, arrival time.
Step 2: When coming to Vietnam
When arriving at Vietnam airport, the support staff will use a welcome board with your name to pick up you. Then take you to the visa on arrival counter to receive the visa. All procedures and operations for obtaining an visa on arrival will be handled by airport support staff. You don't need to queue or do anything. Your job is to give the required documents and pay the visa stamp fee. After about 5 minutes, the support staff will give you back your passport. And you have a visa on arrival.
Besides, the support staff will take you to the VIP counter to check in to Vietnam quickly. You also do not need to queue up in the long line to enter as usual. After helping you through the VIP check in, the support service will end. Now you have entered Vietnam and can go outside the airport and begin your journey to discover Vietnam.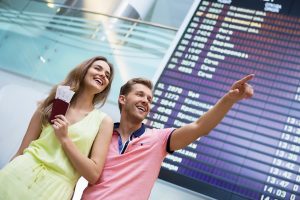 How to register for airport support service
To register for airport support, click on the following link:
https://www.vietnamimmigration.com/apply-vietnam-visa/
This is the link for applying airport support service as well as applying visa to Vietnam. If you already had a visa or you do not need a visa, simply send an email to info@vietnamimmigration.com, and request airport support service only.
After clicking on the link, you will be asked to fill out your personal information, the type of visa you need to use, the airport you will arrival to. Then, in the "add on" section, you need to choose "on arrival support" service. You can choose one of two services here: standard support and VIP support. Each type of service has a detailed description, you just need to choose the type of service you need. After completing the options, you pay and then you will receive an email confirmation of the service you have purchased.
Your registration means that your request for support services has been recorded on the system. And your support staff at the airport has been arranged. Coming to Vietnam, you just need to look around to find the person holding the welcome board with your name. And the support staff will do all procedures.