2023 VOA
A Detailed Guide for Canadians Seeking Vietnam Landing Visa for Planning a Trip to Noi Bai Airport 2023
With the reopening of the airport's landing visa policy, passengers from all over the world may once again get visas upon arrival at Noi Bai. This page will explain the landing visa procedure for Canadians arriving at Noi Bai Airport in Vietnam. Anyone planning to arrive in Vietnam via Noi Bai Airport will find this information to be quite helpful.
1/ General Information for Canadians About the Vietnam Landing Visa at Noi Bai Airport
It is possible to apply for and acquire a landing visa for Vietnam at any of the country's international airports. This choice is inclusive to Canadians flying into Noi Bai International Airport in Hanoi, Vietnam (HAN). Canadian citizens planning to arrive in Vietnam must apply for a landing visa in advance and pay a fee to do so. Canadians will get an email with their visa approval letter, which they may present at Vietnam's Noi Bai International Airport to get their visa stamped.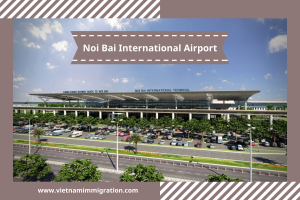 2/ When do Canadians need a landing visa to enter Vietnam through the Noi Bai airport?
If you are a Canadian citizen and require a visa to enter Vietnam but don't have time to prepare all the necessary documentation in advance, you can apply for a landing visa at Noi Bai International Airport. People from the following categories can usually apply for landing visas:
Canadians planning a vacation or holiday in Vietnam are welcome to apply for a tourist landing visa.
Business visitors: Canadian citizens who are travelling to Vietnam for business-related objectives (such as attending a conference, meeting with clients, or conducting research) are eligible to apply for a business landing visa.
It is possible to obtain a landing visa in Vietnam if you are a Canadian citizen transiting through Vietnam
3/ Visa requirements for Canadians arriving in Vietnam via Noi Bai Airport
The following procedures must be followed in order to get a landing visa for Vietnam at Noi Bai Airport:
First, submit an electronic application for a letter of approval, which may take 3-8 business days to process under normal circumstances.
If you need a landing visa at the airport, the permission letter is the single most critical piece of paperwork you'll need. Without the prior authorisation letter, Canadian nationals will not be granted a landing visa. Thus, it is suggested to submit an application for a permission letter at least 10 days before to the departure date.
Canadians can apply for a permission letter online to arrive in Noi Bai:
https://www.vietnamimmigration.com/apply-vietnam-visa/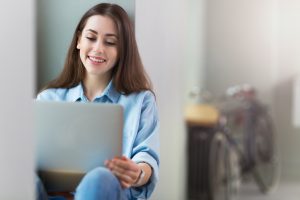 Second, once you've received the permission letter through email, you should print a paper copy for your records.
You'll need 25 USD in cash for the stamping price and two passport-sized images. Your passport must have at least six months remaining on its validity date.
Step 3: Get a visa stamp at the Noi Bai airport's landing visa counter.
Bring everything listed above with you to Vietnam's Noi Bai Airport to get your visa stamped. After confirming your identity and travel plans, immigration officials at Noi Bai Airport will issue a landing visa and stamp your passport. Please verify the visa and its details are correct before leaving the counter.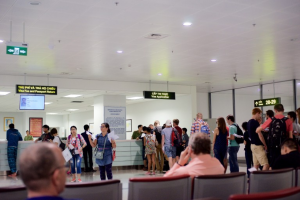 At Noi Bai Airport, the landing visa desk can be found just across from Passport Control. The signs, however, become obscured by the crowd. You will need to wait for the Visa landing office to process your paperwork after you have submitted it to them. If the line is long, listen for your name to be called over the intercom or see if they ask to see identification.
In conclusion, Canadian citizens can apply for an advance visa approval letter and then get a landing visa upon arrival at Noi Bai Airport in Vietnam. Incredibly, this expedites the immigration process for Canadian travellers significantly. Contact us at info@vietnamimmigration.com  for information on the Vietnam landing visa at Noi Bai airport and entrance requirements.