2023 Vietnam Visa
[Vietnam Tourist E-Visa for Canadian Citizens 2023] How to Apply for a Vietnam Tourist E-Visa for Canadian Passport
The Vietnam Tourist E-visa was formally introduced in February 2017 and has attracted the interest of thousands of visitors from outside. Can Canadian citizens apply for an e-visa to Vietnam? How may a Canadian apply for an electronic visa to visit Vietnam in 2023? Here are a few key points that all Canadian travellers should be aware of before beginning the e-visa application process for Vietnam.
1/ What is a Vietnam tourist e-visa for Canadian?
The Vietnam Immigration Department has offered the Vietnam Tourist E-visa or Vietnam electronic visa since February 2017. This particular Vietnamese visa may be sought for and obtained online. The 30-day single-entry Vietnam tourist E-visa is valid for travel only.
The Vietnam Tourist E-visa has been reinstated as of March 15, 2022, following the same rules as before Covid-19, after being suspended for two years as a result of Covid-19.
2/ Can Canadian citizens apply for an electronic visa for Vietnam in 2023?
80 nations, including Canadian passport holders, are included on the Vietnam Tourist E-visa country list in Resolution No. 79/NQ-CP of the Vietnam Government, dated May 25, 2020.
Canadian citizens may still apply for a Vietnam tourist e-visa online and get approval before travelling there. Canada visitors may now get an electronic visa for Vietnam; the internet application process takes just a short while.
3/ Entry points into Vietnam for Canadians using Vietnam Tourist E-visas in 2023
The Vietnam Tourist E-visa for Canadians is now accessible to travellers on cruise ships, flights, and land crossings. It works flawlessly at one of the 33 entrance gates listed below.
https://www.vietnamimmigration.com/vietnam-evisa/accepted-ports-to-enter-vietnam-with-e-visa/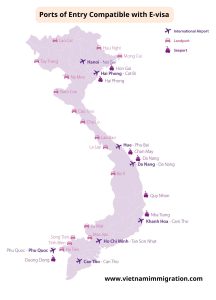 Although there are a number of Vietnam entrance gates which enable Canadian access with Tourist E-visa, Canadian visitors must pick the exact entry gate when submitting the online E-visa application form. Canadian travellers must enter Vietnam at the entry gate indicated on the approved E-visa. Canadian visitors must apply for the new tourist E-visa if they change their entry point.
4/ Documents for applying for e-visa to Vietnam as Canadian tourist in 2023
Canadian visitors visiting Vietnam should have the following items ready before applying for an electronic visa:
A passport valid for six months
A picture of the whole data page of your passport.
A private photograph (without glasses)
A functioning credit or debit card to pay the visa fee
A contact email for getting the E-visa outcome

5/ Vietnam Tourist E-Visa Application Process for Canadian 2023
Applying for a Vietnam tourist E-visa for Canadian citizens is simple if they properly adhere to the instructions below:
Access the Vietnam Tourist E-visa Application for Canadians' official website.
Fill out the E-visa application form completely, including the applicant's information and your travel details. Upload a copy of your passport's data page and a picture.
Pay the E-visa charge using one of the available payment options.
Get your registration code and wait for the processing of your E-visa.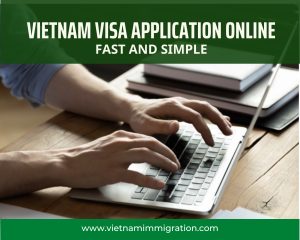 6/ Processing period for Vietnam tourist E-visas for Canadians in 2023
For bearers of Canadian passports, the processing time for a tourist E-visa to Vietnam is typically three working days. It is advised that Canadian travellers apply for their Vietnam tourist E-visa 1-2 weeks before departure to reduce risk.
Canadian tourists may choose the "express service" option on the visa application form to hasten the Vietnam tourist E-visa procedure in the event of an urgent travel there. Canadian visitors may have their visas granted with urgent service in one or two business days.
When applying for a Vietnam tourist E-visa urgently online, Canadian citizens merely need to choose the express option and pay the expedited price. The cost of expedited shipping can vary depending on how quickly you need it.
Canadian travellers just forego the expedited service if the trip is not essential. After three working days, the e-visa will be granted after being processed as usual. (Note: The working days are days that are considered to be working days, excluding Saturday, Sunday, and Vietnamese public holidays.)
7/ The validity of Vietnam tourist e-visa for Canadian 2023
The validity of the Canadian Vietnam tourist e-visa begins on the arrival date specified on the e-visa approval and expires on the leave date specified thereon. Canadian visitors to Vietnam must choose the arrival and leave dates before submitting their E-visa applications:
Travelers from Canada may enter Vietnam no earlier than the entrance date indicated in their E-visa approval.
Travelers from Canada must leave Vietnam either precisely on the day indicated in the E-visa approval or before that date.
A tourist's 30-day single-entry E-visa to Vietnam is valid. This E-visa will become void as soon as you depart Vietnam.
We recently conducted research on the Vietnam tourist E-visa for holders of Canadian passports, including the necessary paperwork, validity, processing times, and application processes for Canadian tourists in 2023. Please feel free to contact us by email at info@vietnamimmigration.com if you have any more questions concerning the Vietnam E-visa and entrance criteria.