2023 Vietnam Visa
How to Apply for a Vietnam Visa for Canadians Outside of Canada in 2023: A Step-by-Step Online Guide
Canadians who live or work outside of Canada can easily get a Vietnam visa by following the steps below. Vietnam's borders were closed to tourists for two years, but now they are open again. Many flight routes have been reopened, making it easier for Canadians to travel to Vietnam. Canadians who are not currently in Canada can easily apply for a Vietnam E-visa online. This makes it easy to get a Vietnam visa outside of Canada.
Vietnam has scrapped quarantine requirements and COVID-19 vaccination and testing proof for Canadian travellers. Canadian tourists who want to go to Vietnam need to have a valid visa and passport.
Vietnam also opened E-visa policy again for 80 countries, including Canadian passport holders. In 2023, Canadians living outside of Canada will be able to apply for a Vietnam E-visa online and use it to enter Vietnam without having to worry about Covid-19. Follow the steps below to get a Vietnam E-visa online if you are a Canadian living outside of Canada.
Here's everything you need to know to apply for a Vietnam e-visa as a Canadian in 2023:
Step 1: Visit the official website for applying for a Vietnam E-visa as a Canadian
https://www.vietnamimmigration.com/apply-vietnam-visa/ .
Canadians should visit this link to start the visa application process. It's easy to understand and comes in English. Keep in mind that the e-visa is only effective for a selective number of entrance gates, please check if your planned airports, border land ports, or seaports allow e-visa.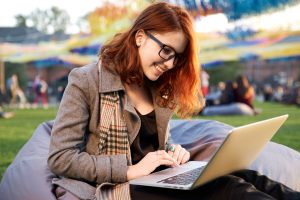 For full lists of entry gates which allow Canadian to enter by using Vietnam E-Visa, please click here: https://www.vietnamimmigration.com/vietnam-evisa/accepted-ports-to-enter-vietnam-with-e-visa/
Step 2: Fill out the information on Vietnam E-visa application form
At this step, Canadian must fill out the application form with all the necessary information. Canadians who want to know more about the type of visa they are applying for can read the description. When filling out the visa application form, you have to choose your nationality, the reason for your visit, the type of visa you want, the entry and exit points, and the dates of your entry and exit.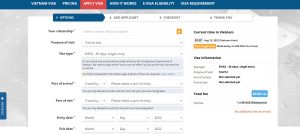 Then, if you need it, please add the extra service:
Service in a hurry: Choose this if you need an E-visa quickly. With standard service, a Canadian's Vietnam e-visa will be ready in 3 business days. When Canadians use this service, they can speed up the visa process and get the result in 1 working day or 2 working hours.
On Arrival Support: Choose this if you need the Fast Track service. This service is for people who want to finish the airport entry process. At the airport, there will be people to help with all of the immigration and entry procedures.

Then click on "Next" to go to the next page.
Step 3: Enter your email and upload your passport and picture.
Canadians must give their email address in order to get the E-visa result when it is approved. Please use the right email address. If you type in the wrong email address, the E-visa will go to the wrong place.
Then, Canadians have to upload a photo of themselves and a picture of the data page of their passport:
Passport: A Canadian can scan or take a picture of the data page of their passport, which shows all of their personal information clearly. Don't let your fingers cover up anything on your passport. Don't leave any part of the passport out.
Self-portrait: Canadians can take a photo of themselves. This picture can't be the same as the one in the passport. This picture can't have glasses in it, and a white background is best.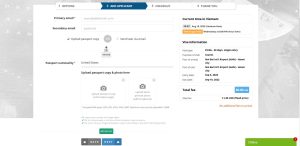 Step 4: Make sure the information is correct and send the money.
Canadian will get a visa order code after making sure that your information is correct. Canadian will need it in the future, so write it down.
Then, Canadians can pay the visa service fee with a credit card or a debit card. After the payment is made, a confirmation email will be sent to the email address that was used to apply for the visa.
Step 5: Print out E-visa letter
As stated in the first set of instructions, a Canadian's Vietnam E-visa application will be processed in three business days. But if a Canadian applies during a busy time for tourism, the process might take longer. You can also use an urgent service to get your E-visa for Vietnam faster. But Canadians should fill out their Vietnam e-visa application at least 10 days before their trip.
After the E-visa is approved, it will be sent to the registered email address. Canadians who want to go to Vietnam should remember to print the e-visa letter. Before letting a Canadian on the plane, the airline staff will check to see if their E-visa is approved.
Canadians must show the approval of their E-visa at the point of entry when they go to Vietnam.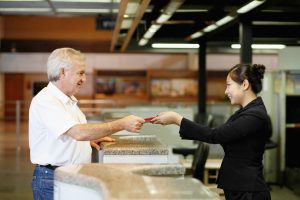 So, Canadians can apply for and get a Vietnam visa from anywhere they have access to the internet. Canadian can submit Vietnam e-visa when they are not in Canada, and after a short period of time (3 working days), E-visa will be approved and sent to their email.
Important Notes:
Check your information twice before sending in your E-visa application.
Once you send in your application or get your e-visa, you can't change where you enter the country. You have to apply for a new one if you want to change.
During your stay in Vietnam, you can't get a longer e-visa.
We just looked at the instructions for getting a Vietnam e-visa for Canadians who are not in Canada in 2023. If you have any questions about how to apply for a Vietnam E-visa or what you need to do to get into Vietnam as a Canadian, feel free to send us an email at info@vietnamimmigration.com .