2023 Vietnam Visa
Electronic Visa for Travelling to Vietnam for New Zealand Residents 2023 – Instructions for New Zealand Citizens Seeking a Tourist E-Visa to Vietnam
Since its official release in February 2017, thousands of tourists from across the world have shown interest in the Vietnam Tourist E-visa. Can a New Zealand passport holder get a Vietnam e-visa? If you are a New Zealand citizen planning a trip to Vietnam in 2023, you may apply for an electronic visa by following the instructions provided below. To begin the process of obtaining an electronic visa for Vietnam, all New Zealanders should be aware of the following essential information.
1/ When travelling to Vietnam, do New Zealanders need an electronic visa?
The Vietnam Immigration Department launched the Vietnam Tourist E-visa in February of 2017. You may apply for and get this kind of visa to Vietnam entirely online. The 30-day duration of the tourist E-visa for Vietnam permits just one entrance.
Since March 15, 2022, Vietnam Tourist E-visa processing has begun after being put on hold for two years owing to Covid-19, with the same rules in place as before Covid-19.
2/ Can citizens of New Zealand apply for Vietnam Tourist E-visa in 2023?
The New Zealand passport is one of the 80 nations that qualify for a Vietnam Tourist E-visa, as per Government of Vietnam Resolution No. 79/NQ-CP of May 25, 2020.
Travelers from New Zealand who want to visit Vietnam may still apply for a tourist E-visa in advance of their trip. To apply for a Vietnam Electronic Visa, New Zealanders need just spend a few minutes on the web.
3/ Applicable Vietnam entry gates for New Zealanders with Vietnam Tourist E-visa 2023
New Zealanders who have a valid Vietnam Tourist E-visa will be able to enter Vietnam at the following entry points:
New Zealanders may now apply for a tourist e-visa to Vietnam, valid for international travel by air, land, or sea. You may use it successfully at any of these 33 checkpoints.
https://www.vietnamimmigration.com/vietnam-evisa/accepted-ports-to-enter-vietnam-with-e-visa/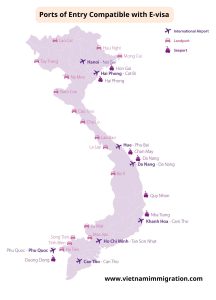 There are several Vietnam entrance gates that accept Tourist E-visas from New Zealand, however New Zealanders applying for a Tourist E-visa online must specify which gate they want to use. Tourists from New Zealand with an authorised E-visa must enter Vietnam using the specified entry gate. Tourists from New Zealand who want to enter via a different port of entry must apply for the new tourist E-visa.
4/ E-visa requirements for New Zealand citizens travelling to Vietnam in 2023
The following items are required of New Zealand citizens applying for a Vietnam tourist E-visa online:
Valid passport for at least six months;
photocopy of the passport information page.
Photo of yourself, in a recent picture (no glasses),
a valid credit or debit card to pay the visa charge,
your email address to get the E-visa result

5/ Here's How to Get a Tourist E-Visa to Vietnam for New Zealanders in 2023
If you're a New Zealand resident, applying for a Vietnam tourist E-visa is a breeze; just follow the instructions outlined below.
Please visit the Vietnam e-visa application portal for New Zealand citizens. https://www.vietnamimmigration.com/apply-vietnam-visa/
To apply for an e-visa, you must:
fill out all sections of the form pertaining to the applicant's details
fill out all sections pertaining to the trip
upload a photocopy of the data page from your passport and the e-visa fee
pay the e-visa fee using one of the available payment methods
Then you will get a registration code.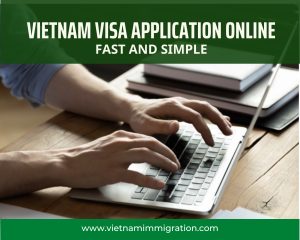 6/ Vietnam E-visa processing time for tourists from New Zealand in 2023
Tourists from New Zealand need to allow at least three business days for their Vietnam e-visa application to be processed. It is highly suggested that New Zealanders apply for a Vietnam tourist E-visa no later than two weeks before their planned trip.
To speed up the application process for a Vietnam tourist E-visa, New Zealand citizens may choose "express service" on the visa application form. Those from New Zealand visiting the country may have their visa granted in as little as a day, or as quickly as two hours, with the help of our urgent service.
Tourists from New Zealand who require a Vietnam E-visa quickly need just apply online, choose "express service," and pay an additional cost. The expedited price will vary based on how quickly you need it.
The majority of New Zealand visitors do not use the expedited service unless absolutely necessary. The standard processing time for an e-visa is three business days. (Note: Saturdays, Sundays, and Vietnamese holidays are not included as working days.)
7/ Validity of Vietnam Tourist E-visa for New Zealanders 2023
The validity period for a New Zealand citizen's Vietnam tourist e-visa begins on the date of arrival specified in the e-visa acceptance email and expires on the date of leaving. New Zealanders applying for a tourist E-visa to Vietnam must provide an arrival and departure date.
Tourists from New Zealand may enter Vietnam on the date of entry indicated in the E-visa approval, or any day after.
Tourists from New Zealand must leave Vietnam on or before their approved E-visa expiration date.
E-visas for tourists visiting Vietnam are valid for a maximum of 30 days and only allow for one entrance. This electronic visa is void as soon as you leave Vietnam.
We have recently finished researching the specifics of the Vietnam tourist E-visa for New Zealand passport holders in the year 2023, including the necessary paperwork, validity, processing time, and processes. Feel free to email us at info@vietnamimmigration.com with any further questions you may have concerning the Vietnam e-visa and entrance criteria.