2023 Vietnam Visa
E-Visa for Swiss Citizens to Visit Vietnam in 2023 | Information Swiss Citizens Applying for Vietnam e-Visa Need to Know
Switzerland nationals need a visa to enter Vietnam, although they may apply for an e-visa to Vietnam online. Learn all you need to know about the Vietnam tourist E-visa for citizens of SWITZERLAND, including whether or not you need a visa, whether or not you qualify for an exemption from needing a visa, what papers you'll need, and how to apply for one.
1/ Which cases Swiss citizens traveling to Vietnam do not need a visa 2023
A visa is not required for nationals of 24 countries according to Vietnam's visa waiver program. It is disappointing that SWITZERLAND is not included in this group. Swiss nationals are still need to get a visa before entering Vietnam.
There are two scenarios in which citizens of Switzerland may visit Vietnam without a visa:
Citizens of Switzerland may stay in Vietnam visa-free for up to 90 days with an APEC business travel card.
SWITZERLAND Visitors visiting Phu Quoc Island who are staying for 30 days or less and have a confirmed return flight home do not need a visa for Vietnam. If you plan on leaving the island, you'll need a visa.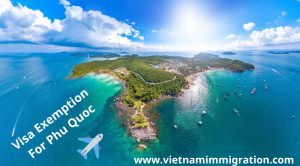 2/ What exactly is a Vietnam tourist E-visa for inhabitants of SWITZERLAND?
While inhabitants of Switzerland are not immune from obtaining a visa to enter Vietnam, applying for one is quick and simple thanks to the internet. The name "Vietnam E-visa" refers to the electronic version of this visa.
The maximum amount of time you may stay in Vietnam with an electronic visa is 30 days. If you have a passport from SWITZERLAND, you may use this visa to enter Vietnam by any of the country's airports, ports, or land borders.
A short-term visit to Vietnam on a single-entry Vietnam e-visa is possible for citizens of Switzerland. The processing time for a Vietnam E-visa is merely three business days after the application has been submitted online.
3/ Necessary Files for Vietnam Tourist E-Visa Application from Switzerland 2023
In order to apply for a Vietnam E-visa as a tourist from SWITZERLAND, you must have the following papers ready:
Passports from SWITZERLAND must be valid for at least another 6 months upon entry and have at least one blank page left.
The ability to pay the visa application fee using a credit card, debit card, or PayPal account
Digital Passport Scanning (information page)
Portrait of the author taken digitally (without glasses)
4/ Entry points accepted Swiss nationals holding Vietnam tourist E-visa to enter 2023
Vietnam allows visitors with authorized electronic visas to enter the country via any of its 33 ports of entry (airports, seaports, and land borders).
https://www.vietnamimmigration.com/vietnam-evisa/accepted-ports-to-enter-vietnam-with-e-visa/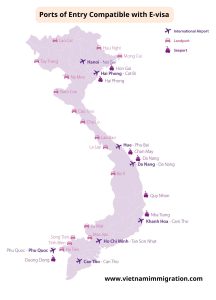 When applying for a Vietnam e-visa from Switzerland, applicants must specify which port of entry they want to use. The main issue will arise if the applicant's actual port of entry differs from the port of entrance they listed on the application form. There will be a strict no-entry policy for citizens of SWITZERLAND. Consequently, while applying for a visa online, it is crucial that the correct entry port be selected.
5/ Swiss individuals may easily get Vietnam tourist E-visa in 2023
The three steps required to apply for a Vietnam tourist E-visa from SWITZERLAND are as follows.
To begin, please visit https://www.vietnamimmigration.com/apply-vietnam-visa/  and complete the online application for a Vietnam visa. This is online application for a Vietnam Electronic Visa (E-Visa) from citizens of Switzerland
Select "Tourist" as purpose
Select Other Required Information
Select Urgent Service (if any)
Make sure your email address is spelled properly, and include a copy of your passport and a recent picture.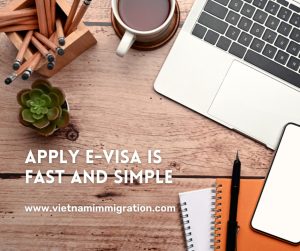 Second, check your details and make your payment.
Before submitting your payment, make sure that your details are correct. You may incur additional costs for any changes made after payment has been made.
Get your visa approved. That's Step 3.
A visa will be emailed to the address provided on the application once three business days have passed. You should double-check your visa to make sure it is complete and accurate before printing it off and getting ready for your journey to Vietnam.
Tourists from Switzerland need just present their passports and visas upon arrival at any port in Vietnam. The passport will be checked and an entrance stamp will be affixed by the immigration officials.
We recently informed SWITZERLAND nationals of the details around the electronic visa for entry into Vietnam. It is our sincere desire that this information proves helpful on your journey. Don't be hesitant to email us at info@vietnamimmigration.com  if you have any questions. As soon as we see your email, we will respond.