2023 Vietnam Visa
Australia citizens may get an electronic visa to visit Vietnam in 2023 – What AUSTRALIANS Seeking Vietnam Visa Online Should Know
Tourists from Australia require a visa to enter Vietnam, although they may apply for an eVisa on Vietnam official website. Information about the Vietnam tourist E-visa for nationals of Australia, including visa requirements, visa exemption, required papers, and the application procedure, may be found in the following article.
1/ Australian citizens travelling to Vietnam in 2023 need a visa
In reality, residents of 24 countries may travel to Vietnam without a visa thanks to a visa waiver programme. Australia is conspicuously absent from this roster. In light of this, Australians still need a visa to visit Vietnam.
Australians may visit Vietnam visa-free under two scenarios:
If Australian citizens have APEC business travel card, they may stay in Vietnam visa-free for up to 90 days.
Visitors from Australia who are staying on Phu Quoc Island for 30 days or less and have a round-trip ticket are free from needing a visa for Vietnam. Leaving the island requires a visa.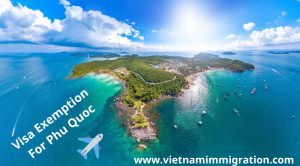 2/ What exactly is a Vietnam tourist electronic visa for nationals of Australia?
The Vietnamese government does not provide visa exemptions to residents of Australia, however applying for a visa to visit the country is quick and simple thanks to the internet. Vietnam E-visa is the common name for this electronic visa application.
The length of time you may stay in Vietnam after obtaining an e-visa is limited to 30 days. Australian citizens may enter Vietnam through land, sea, or air with this visa.
AUSTRALIANS who want to stay in Vietnam for a very short time may use the Vietnam e-visa for a single entrance. An electronic visa for Vietnam may be sought for online, and approval is often granted within three business days.
3/ Documents Needed to apply E-visa for Australians to visit Vietnam in 2023
Tourists from Australia need the following items in order to apply for a Vietnam e-visa online:
A valid passport for Australia with at least six months left and at least one blank page.
Payment for your visa fees using a credit card, debit card, or PayPal account
Scanning Your Passport Digitally (information page)
A Picture of Yourself in Digital Form (without glasses)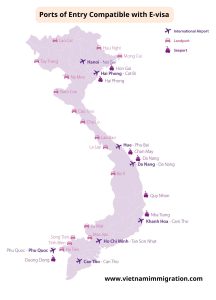 4/ Points of entry that accept Australians with a valid Vietnam tourist e-visa 2023
Once your Vietnam E-visa has been issued, you'll be able to enter the country at any of Vietnam's 33 entry points (airports, seaports, and land borders).
https://www.vietnamimmigration.com/vietnam-evisa/accepted-ports-to-enter-vietnam-with-e-visa/
It is important for Australians to understand that they must choose an entrance port when applying for a Vietnam e-visa. The major issue will arise if the real entrance port is different from the entry port listed on the application form. People from AUSTRALIA will be denied entry. So, while applying for a visa online, be careful to provide the correct port of entry!
5/ Easy actions for Australians to take to get a Vietnam tourist e-visa 2023
Australia citizens may get their Vietnam tourist E-visas in 3 easy steps by clicking the links below.
First, visit https://www.vietnamimmigration.com/apply-vietnam-visa/ and complete the online application for a Vietnam visa. Visitors from Australia may now fill out their Vietnam tourist E-visa application completely online.
Select "tourist" for "purpose of visit" and fill in any other necessary fields.
Select the Most Timely Option (if any)
Make sure your email address is spelt properly and that you include a copy of your passport and a recent picture.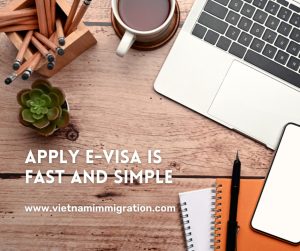 SECOND STEP: REVIEW AND PAYMENT
Before submitting a payment, be sure to verify all of the details you entered. In the event of a change in details after payment has been made, additional charges may apply.
THE THIRD STEP IS TO BE APPROVED FOR A VISA.
When your visa is ready, it will be sent to the address you provided on the application form within 3 business days. Print off your visa after double-checking the details one more time to ensure there are no mistakes, and then start getting ready for your trip to Vietnam.
Australian visitors need just present their passports and visas upon arrival at any port of call in Vietnam. They will need to check in with immigration officials and get an entrance stamp in their passport.
We recently disseminated data on the Vietnam e-visa for Australian tourists. To that end, we pray that this information proves helpful on your journey. Do not hesitate to email us at info@vietnamimmigration.com if you have any questions. We will get back to you as soon as possible after receiving your email.