Vietnam Immigration
Vietnam Visa Solutions – Way To Apply Vietnam Visa Online For Saudi Arabia Citizens (Without Going To Vietnam Embassy)
Visa is one of the most complicated process which many people do not want to face when visiting a country. As the traditional method, the applicants need to come to the embassy and submit their visa application, it takes a lot of time. But when the visa online was born, it helps the visa applicants to save time and save money a lot. Does Vietnam has visa online? And can Saudi Arabia citizens apply Vietnam visa on the internet? You will find the way to apply Vietnam visa at your home without going to any places in this article.
Can Saudi Arabia citizens apply Vietnam visa online?
Like many countries in the world, Vietnam has visa online also. The applicants can apply on the internet and get visa through email. Saudi Arabia citizens can apply Vietnam visa on the website at any time and any places.
With visa online, the applicants don't need to go far away to the Vietnam embassy or consulate to submit the visa application. The required documents are also simple, and the time for processing is shorter.
The procedure for apply a Vietnam visa is very simple. You just need to fill out the visa application form with your personal information, such as your full name, date of birth, gender, nationality, passport number, etc. You also need to choose type of visa, date of entry, date of exit and the entry port. After fill out the application form, you need to type your email which you use to receive visa result.
Filling out the Vietnam visa application form online takes a few minutes to complete. If you have any question about the application form, you can ask Vietnam visa agent. You visa will be granted exactly as what you type of the online application form, so make sure you don't have any mistake when filling out the form.
How to apply a visa online to Vietnam for Saudi Arabia citizens?
Saudi Arabia citizens can stay at home (or any places) with internet connection, using their cellphone or laptop, and process the visa application online:
First Step: Click on this link below to access Vietnam visa application form online
https://www.vietnamimmigration.com/apply-vietnam-visa/
Second Step: Fill out all the required information on the visa application form
The information must be typed correctly, and the visa information must be chosen exactly.
At this step, you can choose the urgent service to process your visa urgently.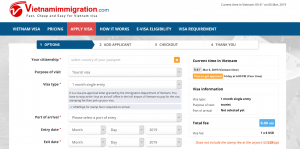 Third Step: Make payment and receive the email confirmation
After making payment successfully, you will receive the email confirmation immediately. Please recheck the information in email confirmation, make sure that all information are correct.
Fourth Step: Receive visa result through email
Normally, it takes two working days to process the visa application. After processing time, your visa will be sent to your email. Check your email regularly and check the visa again when it is approved.
Above is the guidance to apply Vietnam visa online for Saudi Arabia citizens. You can base on the information above, and apply Vietnam visa online step by step. If you have any question about Vietnam visa, you can contact us through email info@vietnamimmigration.com