Vietnam Visa Fee
[Vietnam Visa Fee 2020] Total Vietnam Visa Price For China Citizens? Evisa – Visa On Arrival Procedures
Applicants always want to know the total fee that they need to pay for a service. Visa is the same. They don't want to pay from time to time the costs which are separately showed as a cheap price. What is the final price of Vietnam visa China citizens have to pay? Is there any hidden fee when applying Vietnam visa? All question will be answer clearly in this article.
Up to now, there are three ways to get Vietnam visa for China citizens. You can directly come to Vietnam embassy or consulate in your country (or the country you are living/working) OR apply an Evisa online OR apply an approval letter online and get visa on arrival at Vietnam airport.
Fees To Apply A Vietnam Evisa For China Passport Holders
Evisa is 30 days single entry visa, can enter Vietnam only one time and stay maximum 30 days per visa. This visa is applied online and China is one of 80 countries + 2 territories which are eligible to apply it.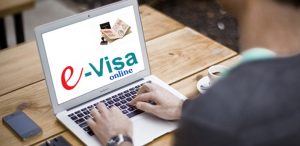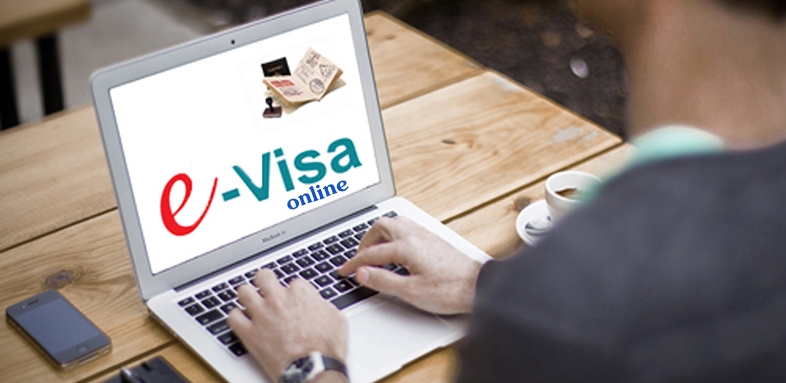 Fee to apply Vietnam Evisa is only paid once, and will be charge online, so you need to have a valid credit card/ debit card/ master card/ visa card, etc. to make payment. When you apply Evisa, make sure that you understand which website you are applying with:
1.1/ Apply Vietnam Evisa at Vietnamese government official website
The advantages of applying Evisa on Government website are cheap and reliable, but the disadvantage are slow and non-refundable. When you apply on Government website, you have to pay the visa fee 25 USD and around 1 USD payment fee. Total fee will be 26 USD. After 3 – 5 working days (as normal processing, visa will be confirmed to send by 3 working days but most cases will be late). If your application is refused (no reason explanation if it is refused), your money will be non-refundable.
1.2/ Apply Vietnam Evisa at Vietnamese travel agent website
Applying at travel agent will cost more. Vietnam travel agent normally charges 10 USD for service fee, so you have to pay 25 USD visa fee + 15 USD service fee, total 40 USD. It is more expensive than applying on Government website, but there are also some advantages. First, you will surely receive Evisa within 2 working days (can be processed faster if you need it urgently). Second, in case your visa is refused, your total money 40 USD will be full refunded. Last but not least, travel agent always provides good customer services, if you need any assistance, you can contact and get response promptly.
How can China people apply Vietnam Evisa online?
For applying Evisa, you need to prepare two documents in advance:
Passport photo (must be valid more than 6 months when visiting Vietnam)
Digital photo (You can come to photo booths, ask them take picture and give you the digital photo; Or you can also take picture by yourself). Photo must show clearly your face, without glasses or hat, white background.
When you have all documents, it is simple to process. You just click on application page, then fill out all required information (personal information, type of visa, entry date, exit date, entry port, etc.), then make payment. After that, you will receive visa confirmation code and email notification. Visa will be sent to you based on the deadline in email.
For your reference, click here to see Evisa application form.
Fees To Apply A Vietnam Visa On Arrival For China Passport Holders
Visa on arrival is a type of visa which you collect in Vietnam airports. It is more flexible with 1 month or 3 months of staying, single or multiple entry. Visa on arrival is available for all people who have successfully applied approval letter before coming to Vietnam. So, China people with an approval letter in hand also can get this visa when landing Vietnam airport.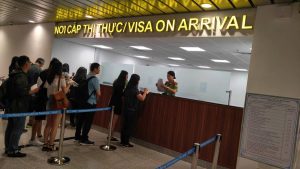 Fees to apply Vietnam visa on arrival is divided into two types of fees: Visa fee and service fee
Visa fee (or stamp fee) is the fee you directly pay to Immigration officer at the airport to get visa on arrival and entry stamp. Visa fee for less than 3 months of stay: 25 USD for single entry and 50 USD for multiple entry.
Service fee is the fee you online pay to Vietnamese visa agent in order to get the visa approval letter. This letter shows that you are eligible to obtain visa at the airports. Service fee depends on type of visa you apply, 6 USD for 1-month single entry and 8 USD for multiple entry.
The total fee of Vietnam visa on arrival for China citizens includes visa fee and service fee. You can scroll up to see all options of Vietnam visa fee for China people and the costs as well.
How can China people apply Vietnam visa on arrival?
First of all, you should apply an approval letter online. This letter is processed within 2 working days, but it's recommended that you should apply at least 10 days before your departure (Vietnam has many holidays, the Immigration Department does not work on weekends and holidays).
You do not need to prepare any documents for applying approval letter online. You can click to this link, fill out application form to process an approval letter.
After getting approval letter, you print it out and prepare these documents:
Original passport (must be valid more than 6 months)
2 photos sized 3X4 cm
When you come to Vietnamese airport, you find out and come to "Visa on arrival counter". You will be asked to submit all above documents here, as well as fill out an entry and exit form (Vietnam visa application form NA1). After all, you pay the visa fee in cash and get back passport with visa.
Apply visa at the embassy or consulate
Vietnam has established diplomatic relationships with many countries, but not all countries have Vietnam embassies and consulate. There are around 80 countries which have Vietnam embassy/consulate located in. If you are living or working in these countries, you can contact and get visa at these offices.
The fee for applying Vietnam visa at embassy and consulate varies from place to place, and it's updated time to time. Fee for applying at Vietnamese consulate in Guangzhou is different from fee when you apply in Vietnam embassy in New Delhi, so you should directly check with embassy/consulate near your place.