Vietnam Visa Fee
[Vietnam Visa Fee 2020] Total Vietnam Visa Price For Burundi Citizens? Visa On Arrival Procedures
Vietnam now opened visa online, which helps applicants to apply visa easier. However, applicants should know clearly about the total price for applying a Vietnam visa online and how to process it. Some websites try to show the cheap price to attract customers but their final price is very expensive. Let's see full information related to Vietnam visa fee and procedure to obtain a Vietnam visa as below.
There is no Vietnam embassy or consulate in Burundi now. Furthermore, Burundi passport holder cannot apply Vietnam Evisa, so the best way to get Vietnam visa for Burundi citizens is applying an approval letter online and getting visa on arrival at Vietnam airport.
Fees To Apply A Vietnam Visa On Arrival For Burundi Passport Holders
Visa on arrival is a type of visa which you collect in Vietnam airports. Visa on arrival is available for all people who have successfully applied approval letter before coming to Vietnam. So, Burundi people with an approval letter in hand also can get this visa when landing Vietnam airport.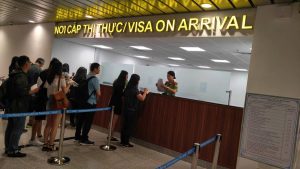 Fees to apply Vietnam visa on arrival is divided into two types of fees: Visa fee and service fee
Visa fee (or stamp fee) is the fee you directly pay to Immigration officer at the airport to get visa on arrival and entry stamp. Visa fee for 1 month single entry is 25 USD.
Service fee is the fee you online pay to Vietnamese visa agent in order to get the visa approval letter. This letter shows that you are eligible to obtain visa at the airports. Service fee depends on type of visa you want to apply.
How can Burundi people apply Vietnam visa on arrival?
First of all, you should apply an approval letter online. It's recommended that you should apply at least 10 days before your departure (Vietnam has many holidays, the Immigration Department does not work on weekends and holidays).
You do not need to prepare any documents for applying approval letter online. You can click to this link, fill out application form to process an approval letter.
After getting approval letter, you print it out and prepare these documents:
Original passport (must be valid more than 6 months)
2 photos sized 3X4 cm
When you come to Vietnamese airport, you find out and come to "Visa on arrival counter". You will be asked to submit all above documents here, as well as fill out an entry and exit form (Vietnam visa application form NA1). After all, you pay the visa fee in cash and get back passport with visa.