Rush visa
[Vietnam Rush Visa 2020] The Fastest Way To Get Vietnam Visa On Tet Holiday (Lunar New Year 2020) – Evisa, Visa On Arrival & Visa At the Embassy
In Vietnam, Tet is the the traditional holiday as well as the biggest holiday of all families. After the whole year of hard working, people come back to their hometown with family and enjoy the warm holiday together. For the tourists, Tet is the supper crowded season which you must prepare all carefully before your trip to Vietnam. Especially for those who need visa to enter Vietnam this period, you should carefully read below information to plan your trip as soon as possible.
How many days for Vietnamese Tet holiday?
According to the final official announcement of Vietnamese Government, Tet holiday 2020 will take place from January 23rd ,2020 to January 29th ,2020. In these seven days, most Government agencies will close, and all the administrative works will be delayed to the day after Tet.
For the applicants who need Vietnam visa, it is recommended that you should apply visa before Tet holiday at least 3 working days. You can also apply sooner (1 month before Tet holiday or more than 1 month) if you have fixed the arrival date and entry port. In this case, you can go to Vietnamese embassies or consulates in your country (if it's available) to submit the application. If you care about the complicated process in the embassy, you can also apply Vietnam visa online to get visa result within 2 working days. Both evisa and visa on arrival should be in your consideration. But please note, try to apply ASAP. If you apply visa nearly Tet holiday, it will be very stressful.
Can I get Vietnam visa in Vietnamese embassies and consulates on Tet holiday?
The Vietnamese embassies and consulates are off in Vietnamese holiday as well as holidays in current located country. For example, the Vietnamese embassy and consulates in Japan will close in Vietnamese national holidays and Japanese national holidays. So you should avoid to submit application on these days. And of courses, they are also off in Tet holidays.
Please note that the processing time to get visa at Vietnamese embassies and consulates is normally 5 working days (not counted weekend). If you need visa on Tet holiday, you must come to embassy or consulate at least 7 working days before Tet and submit the application.
There is no way to get visa in Vietnamese embassies and consulates on Tet holiday, if you forget to apply visa, you should consider visa on arrival to get visa at the airports.
Is Vietnamese electronic visa system opened on Tet holiday?
Vietnam electronic visa is now applied for 80 countries and 2 territories, which helps the applicants to simplify the visa application procedure. However, Evisa cannot process on Vietnamese holidays and weekend. If you apply Vietnam evisa on weekend or holiday, your visa application will be processed after the Government visa system opens again (when the holidays and weekend end).
Therefore, there is no way to get Evisa visa on Tet holiday, if you need a visa urgently, you should consider visa on arrival to get visa at the airports.
Can I get visa on arrival at Vietnamese airports on Tet holiday?
There is only one way to get Vietnam visa on Tet holiday, it is visa on arrival. Visa on arrival is the type of visa you get at Vietnamese airport when you land. To get this visa, you must apply a document called "visa approval letter". This letter guarantee that you will 100% get the visa at airport. But you must pay the expedited fee to get it urgently on Tet holiday.
This approval letter is applied online. The fee is normally 6 US dollars. The extra fee to process it urgently on Tet holiday is 120 US dollars (8 working hours) and 170 US dollars (4 working hours). All procedure will be done online before it is sent to your email.
How to apply Vietnam visa urgently on tet holiday?
In order to get visa on arrival quickly, you can follow these steps:
Step 1: Click here to access the application page.
You have to fill out all required information in application form. The required information includes your personal information, such as full name, date of birth, nationality, passport number, etc.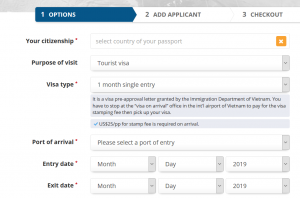 Step 2: Choose the express service to get approval letter urgently
Don't forget to choose express service or you will get result after Tet holiday. The express category will offer you some express service with the time to get result, you just need to choose the suitable one.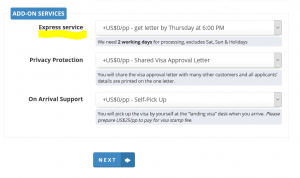 Step 3: Receive the approval letter though email
As the confirmed service, you will get the visa approval letter exactly at the time you choose in express service. You need to print the letter out and submit it when you come to Vietnam.
Step 4: Get visa at the airport and enter Vietnam
When you land, just come to the "visa on arrival counter" to do the visa on arrival procedure. You need to submit passport and approval letter here to get visa and pay stamp fee (25 US dollars for single entry and 50 US dollars for multiple entry). The Immigration official will check on the system and stamp on your passport.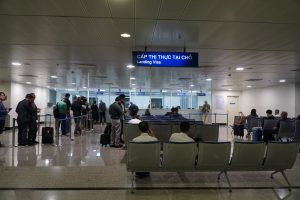 Support service at the airport.
Tet is the time many foreigners come to Vietnam, as well as the Vietnamese overseas come back to hometown, so it is the peak time. The line at visa on arrival counter is crowded and the line at passport control counter is also crowded. In case you want to save time and check through Immigration counter fast, you can book the "support service". This service will help you do all procedure for getting visa stamp, as well as check in VIP gate within 10 minutes.

For more information, you can contact us through email: info@vietnamimmigration.com