Polish
Co to jest promesa wizowa do Wietnamu?
Promesa wizowa to list, który jest zatwierdzony, podpisany oraz opieczętowany przez Wietnamski Urząd Imigracyjny (Rząd Wietnamu). Pozwala on na odebranie wizy po przylocie na jedno z czterech lotnisk międzynarodowych w Wietnamie.
– Zazwyczaj list, który otrzymasz, zawiera do 30 wniosków, a wszystkie nazwiska wnioskodawców wydrukowane są na jednym dokumencie. Promesa tego typu jest tańsza.
– Jeżeli troszczysz się o swoją prywatność czy bezpieczeństwo, możesz poprosić swojego agenta o promesę poufną, na której będzie widnieć tylko Twoje nazwisko i ewentualnie nazwiska członków rodziny lub znajomych, z którymi będziesz podróżować. Promesa tego typu jest droższa.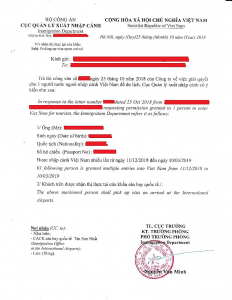 Pamiętaj:
Wydrukuj całą promesę wizową (najlepiej w kolorze, jednak nie jest to warunek konieczny) i nie zapomnij zabrać jej ze sobą! Niektóre linie lotnicze mogą poprosić o pokazanie promesy jeszcze przed odprawą lub wejściem na pokład. Będziesz też jej potrzebować przy punkcie "Visa on Arrival", już po przylocie na lotnisko w Wietnamie.