India
[2022 Vietnam Business Visa For Indians] How To Apply For A Business Visa To Enter Vietnam If You Have An Indian Passport
Vietnam is quickly becoming a desirable location for international investors and entrepreneurs from all over the globe. These days, an increasing number of Indian businesses visit this nation in search of commercial opportunities. However, Indian businesspeople must get a visa to visit Vietnam. How can Indians apply for a Vietnam business visa? What are the prerequisites and the procedure? Please spend around 5 minutes reviewing the material below.
1/ What is a business visa to Vietnam for Indian? How long is a Vietnam business visa valid?
Vietnam business visas are provided to Indians who will be working with/for a firm in Vietnam, attending a meeting/negotiation, or signing contracts and do not have a valid working visa or temporary residence card.
The Vietnamese business visa for Indians is divided into two types: DN1 and DN2.
DN1 visa for Indians: should be issued to Indians who operate with other lawful firms and organisations in conformity with Vietnamese regulations.
DN2 visa for Indians: to be issued to Indians who travel to Vietnam to supply services, establish a business presence, or engage in other activities permitted under international treaties to which Vietnam is a signatory.
While Indians with a tourist visa are not authorised to work in Vietnam, Indians with a business visa are able to enjoy a leisure vacation while in Vietnam on business.
Vietnamese business visas for Indians are available in the following case:
1-month single/multiple entries
three-month single/multiple entrance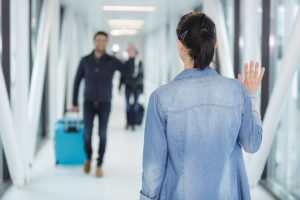 2/ What are the business visa requirements for Indians in Vietnam in 2022?
Because Indians are not excluded from the Vietnam visa requirement, Indian businesspeople must apply for a Vietnam business visa before travelling to Vietnam.
Indians must satisfy the following standards in order to get a business visa for Vietnam:
Indians are not barred from entering Vietnam.
Your Indian passport must be valid for at least 6 months from the day you enter Vietnam and have at least two blank pages.
Portrait shots (4*6cm or 2*2 inch with a white backdrop)
3/ How may Indians get a Vietnam business visa in 2022?
Indians may apply for a business visa to Vietnam in one of three ways:
Apply for a visa at the Vietnam Embassy in New Delhi or the Vietnamese Consulate in Mumbai.
Apply for a visa on arrival at one of Vietnam's 7 international airports.
Apply for an E-visa online at the Vietnam e-visa website.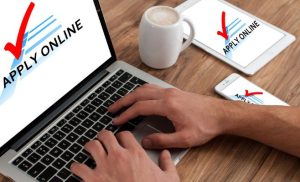 3.1/ Applying for a Vietnamese business visa in India at the Vietnam embassy/consulate in 2022
In order to get a Vietnamese business visa in this manner, Indians must visit the closest Vietnam embassy/consulate. The list of Vietnamese embassies and consulates in India may be found here.
https://www.vietnamimmigration.com/vietnam-embassy/vietnam-embassy-india/
The following is the application procedure for a Vietnam business visa for Indians at the embassy/consulate:
Step 1: Obtain a letter of sponsorship for a Vietnam business visa.
The sponsoring firm in Vietnam will apply to the Vietnam Immigration Department for a Vietnam business visa sponsorship letter (also known as a Vietnam business visa invitation letter, a business visa approval letter, or a Vietnam entrance permission). The documents are as follows:
Indian passport
Certified documentation of the sponsor company's business registration
Form NA2
Form NA16
any additional papers necessary
This procedure will take 5 – 7 working days once the Immigration Department receives the relevant documentation.
If the application is granted, the Vietnam Immigration Department will:
provide a sponsorship letter to the sponsoring firm; and
fax a letter for business visa stamping to the registration office of the Vietnam embassy/consulate in India.
Step 2: Prepare documentation for the stamping of a Vietnam business visa.
The invitation letter acquired in step 1 will be sent to Indian candidates by the sponsor firm. They must print it and provide it with other needed papers such as:
a completed Vietnam visa application form,
an authentic Indian passport,
pictures,
Fee for visa stamping
Step 3: Obtain business visa stamp
Your visa clearance letter will be forwarded to the Vietnamese embassy/consulate in India after it has been approved. Indian candidates must visit the embassy/consulate and provide the aforementioned documentation.
The Vietnamese embassy/consulate in India will verify the acceptance letter on the system and issue a visa, which will be affixed to the Indian applicant's passport.
3.2/ Obtaining a Vietnam business visa on arrival in 2022 for Indians
The procedure of obtaining a business visa on arrival for Indians is almost identical to that of obtaining an embassy business visa for Indians. However, rather of having their visa stamped by the Vietnam embassy/consulate, Indians will have their visa stamped at the Vietnam airport upon arrival.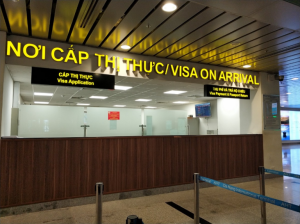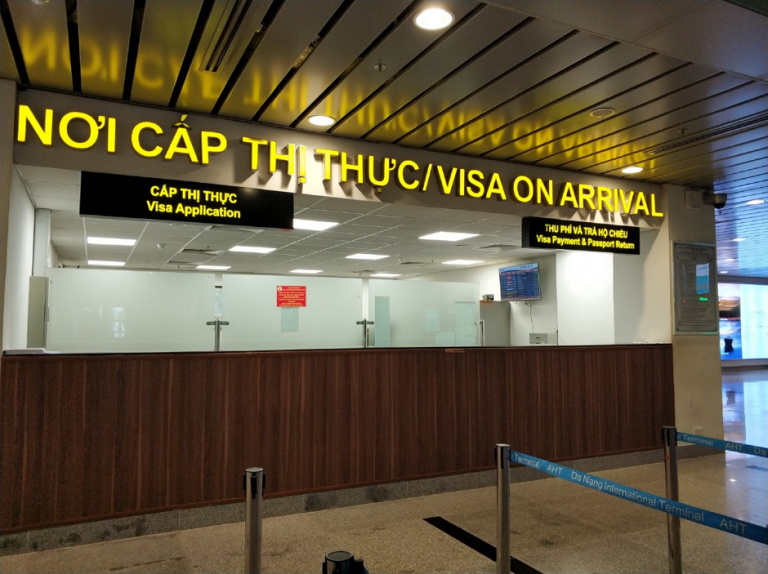 The procedure is as follows:
Step 1: Obtain an Indian business visa sponsorship letter for Vietnam.
The Vietnamese sponsor will get the business visa sponsorship letter from the Vietnam Immigration Department and send it to the Indian applicant.
Step 2: Get your paperwork ready for the business visa stamping.
Indian businesses will need to prepare the following:
a print of your visa sponsorship letter, a completed Vietnam visa application form, an original Indian passport, and images
The visa stamping charge is $25 for a single admission and $50 for subsequent entries.
Step 3: Get an Indian business visa stamped at the airport.
Upon arriving at the Vietnamese airport, Indians must produce the above-mentioned papers to the Vietnam Immigration Officer in order to get the visa stamped into their passport and then complete the entrance process to enter Vietnam.
Simply go to the immigration landing visa office and seek a visa on arrival.
3.3/ Obtaining an e-visa for a business trip to Vietnam for Indians 2022
India is one of 82 nations that may use the Vietnam e-visa for business purposes. However, the Vietnam business e-visa is only valid for 30 days and cannot be extended without leaving Vietnam. As a result, if Indians want to remain in Vietnam for more than 30 days, it is strongly advised that they get a business visa via one of the two alternatives listed above.
Indian businesses may simply apply for a Vietnam business e-visa by following the procedures outlined below:
To access the E-visa application form, go to https://www.vietnamimmigration.com/apply-vietnam-visa/ .
To apply for a Business Visa online, Indians should simply pick "working" from the dropdown option while filling out the online application form.
Fill out the essential information
After that, submit a photo of yourself and a scanned copy of your passport, pay the visa price, and wait for the visa to be processed.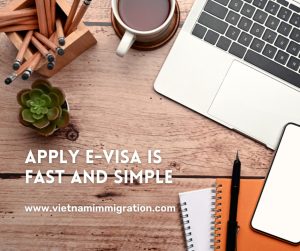 When an Indian's Vietnam Business e-visa application is granted, he or she may download the visa and submit it at the Vietnam entrance gate.
The Vietnam business e-visa procedure for Indians often takes three working days or more, depending on the amount of visa applications requiring processing.
If Indians need to submit a business E-visa quickly, just choose "express service" to speed the procedure. This method allows Indians to get a Vietnam e-visa in one working day.
4/ Can Indians renew their Vietnam Business Visas in 2022?
Prior to Covid-19, Indians may easily renew their Vietnam business visa. However, the method for extending a Vietnam visa has been altered.
For the time being, Indians may extend their embassy business visas and business visas on arrival in Vietnam, but not their business e-visas.
In summary, Indian businesspeople must get a Vietnam business visa in order to operate or do business in Vietnam. Indians may easily get a Vietnam business visa by applying online for a business E-visa or by asking a local firm in Vietnam to serve as a sponsor company and apply for a business visa. To apply for a Vietnam business visa for Indians, go to https://www.vietnamimmigration.com/apply-vietnam-visa/  and fill out the form. If you have any additional questions, please email us at info@vietnamimmigration.com .