2024 Urgent visa
Expedited Service for Obtaining a Vietnam E-visa for Portuguese Citizens 2024
Are you planning a trip to Vietnam? Don't let the visa application procedure derail you! We recognize that time is of the essence, which is why we are thrilled to launch our accelerated service for obtaining a Vietnam e-visa for Portuguese citizens. You may now get your e-visa in a fraction of the time it used to take thanks to our simple and efficient approach. Our skilled team is committed to providing you with a flawless experience, allowing you to focus on what really matters: seeing the beauty of Vietnam. Our accelerated service guarantees that you will obtain your e-visa in as little as 2 hours, whether you are going for business or pleasure. With our expedited service, you can say goodbye to long lines and unneeded stress and hello to a more pleasant journey. So, why delay? Begin planning your Vietnam journey today, and let us handle your visa application procedure quickly and professionally.
1/ The standard visa application procedure for Portuguese travelers
Traveling to Vietnam is an exciting way to discover a vibrant and culturally rich country. The visa application process, on the other hand, can dampen the exhilaration. Obtaining a visa for Vietnam has traditionally been a time-consuming and difficult process, requiring many trips to the embassy and lengthy wait times. This might be especially unpleasant for Portuguese guests because it delays the start of their long-awaited excursion.
The usual visa application process entails filling out extensive forms, presenting many supporting papers, and waiting for the visa to be processed for a protracted period of time. This can be a huge inconvenience, especially for people with limited time or who need to move quickly. Furthermore, the ambiguity around the timing for visa clearance might add to the tension and anxiety.
Fortunately, there is now an option that allows Portuguese travellers to swiftly and easily obtain their Vietnam e-visa. Our expedited service is intended to speed the visa application process, saving you time and removing the inconvenience associated with regular methods. We ensure that you receive your e-visa in a fraction of the time it would normally take, allowing you to concentrate on arranging your schedule and making the most of your stay in Vietnam.
2/ The advantages of a streamlined Vietnam e-visa service for Portuguese travelers
There are various advantages to adopting our expedited Vietnam e-visa service for Portuguese travelers. For starters, it saves you time. Rather than navigating the difficulties of the usual visa application process, our simplified service allows you to complete the full process online, from the comfort of your own home. This means no more standing in long lines or returning to the embassy many times. You can submit your application and have your e-visa approved in as little as 2 hours by following a few simple steps.
Second, our speedy service ensures your piece of mind. Knowing that your visa application is in the hands of competent specialists committed to ensuring a smooth and fast procedure might help to reduce any worries or uncertainty. Our staff is well-versed in the requirements and procedures for acquiring a Vietnam e-visa, and we work hard to guarantee that all required papers is filed correctly and on time. This level of care reduces the possibility of delays or issues, allowing you to travel with confidence.
Another important advantage of our fast service is the convenience it provides. You may have limited time as a Portuguese visitor to cope with bureaucratic formalities. Our service eliminates the need for burdensome paperwork and embassy visits, allowing you to focus on other parts of your vacation. Our speedy service guarantees that the visa application procedure does not become a burden or detract from your whole travel experience, whether you are preparing for business meetings or planning sightseeing excursions.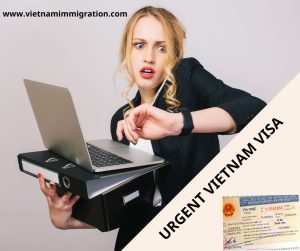 3/ How an expedited e-visa service helps Portuguese travellers save time
The expedited e-visa service we provide is intended to save Portuguese travelers time during the visa application process. We eliminated the need for physical visits to the embassy or consulate, which may be time-consuming and cumbersome, by using an online platform. Instead, you can complete the full application process from the comfort of your own home or workplace, at your leisure.
The shortened application form is one of the primary time-saving features of our expedited e-visa service. We have streamlined the procedure to ensure that the form is user-friendly and simple to browse, reducing the time required to enter the relevant information. Furthermore, our team of specialists is accessible to help you throughout the application process, answering any concerns you may have and providing direction to ensure your application is done correctly and promptly.
The fast processing time is another time-saving aspect of our expedited service. Traditional visa applications typically take weeks to process, however our solution promises a far shorter response time. You can receive your e-visa clearance in as little as 2 hours, allowing you to confidently confirm your trip plans. This accelerated processing time is very advantageous for people who need to fly quickly or have limited time to spare.
4/ How can I apply for an expedited Vietnam e-visa as a Portuguese visitor?
As a Portuguese visitor, applying for our expedited Vietnam e-visa service is a simple and uncomplicated process. To begin, please visit our website and navigate to the e-visa application page. You'll find a simple form here that asks for basic personal information like your name, passport details, and contact information.
https://www.vietnamimmigration.com/apply-vietnam-visa/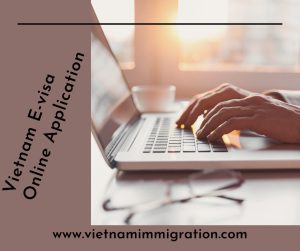 After completing the form, you will be invited to add any supporting documents. A scanned copy of your passport and a recent passport-sized photograph may be required. It is critical to ensure that all documents are clear and legible, since any differences or errors may cause your application to be delayed.
Our team of professionals will check your application and supporting documents after you have submitted them to ensure that all relevant information has been given. If additional information or documentation is required, we will contact you as soon as possible to request it. We will begin processing your application as soon as it is complete and meets all standards, with the objective of presenting you with your e-visa approval in as little as 2 hours.
5/ Taking use of the advantages of quicker Vietnam e-visa processing for Portuguese visitors
Finally, our accelerated service for acquiring a Vietnam e-visa swiftly for Portuguese visitors is a game changer for travellers wishing to discover the beauty of Vietnam without the bother of a lengthy visa application process. You may save time, have peace of mind, and enjoy the comfort of a streamlined application process by utilizing our streamlined online platform and skilled team.
The days of standing in long lines and dealing with superfluous paperwork are over. You can apply for an e-visa from the comfort of your own home with our expedited service, eliminating the need for several travels to the embassy or consulate. Our skilled team is committed to guaranteeing a fast and quick process with no delays or issues.
So, why delay? Begin planning your Vietnam journey today and let us handle your visa application process quickly and professionally. With our accelerated service, you may get your Vietnam e-visa swiftly, allowing you to focus on what really matters: exploring Vietnam's colorful culture, gorgeous landscapes, and delectable cuisine. Don't let the visa application procedure derail you. Select our expedited service to reap the benefits of a smooth and efficient encounter.