2024 Urgent visa
Expedited Service for Canadians to Obtain an E-Visa for Vietnam Quickly 2024
Making travel plans to Vietnam? Allow the visa application procedure to not hold you back! Time is of the essence, thus we are thrilled to provide our accelerated service for Canadian citizens to obtain a Vietnam e-visa swiftly. You may now get your e-visa in a fraction of the time it usually takes thanks to our simple and quick process. Our team of professionals is committed to giving you a flawless experience so you can concentrate on what matters most—exploring Vietnam's natural beauty. Our accelerated service ensures that you will get your e-visa in as little as 2 hours, whether you're going for business or pleasure. With our accelerated service, you may bid farewell to extended wait periods and pointless tension and say hello to a trip that goes more smoothly. Why then wait? Start making plans for your trip to Vietnam right away, and let us handle your visa application quickly and efficiently.
1/ The customary procedure for Canadian travellers seeking visas
Vietnam travel offers an amazing chance to discover a dynamic and culturally diverse nation. However, the procedure for applying for a visa is one thing that may make things less exciting. A visa for Vietnam has often been difficult to get, necessitating several trips to the embassy and protracted wait times. This can be especially annoying for travellers from Canada because it postpones the beginning of their eagerly anticipated trip.
The customary steps in applying for a visa traditionally include filling out extensive paperwork, supplying several supporting papers, and patiently waiting for the visa to be approved. This can be a huge hassle, especially for individuals who need to travel quickly or have a limited amount of free time. In addition, the ambiguity around the timeline for visa acceptance might add needless stress and worry.
Thankfully, there is now a method that makes it simple and quick for Canadian tourists to get their Vietnam e-visa. Our accelerated service is intended to speed up the application process for visas, saving you time and removing the aggravation of conventional procedures. We ensure that you obtain your e-visa in a fraction of the time it would typically take thanks to our knowledge and commitment, freeing you up to plan your schedule and make the most of your time in Vietnam.
2/ The advantages of a speedier Vietnam e-visa process for travelers from Canada
There are various advantages to using our expedited Vietnam e-visa service for Canadian travelers. First of all, it helps you save time. With our simplified service, you may submit your visa application without having to deal with the hassles of the standard procedure from the convenience of your home. This implies that you won't need to visit the embassy more than once or stand in line for hours. You may submit your application and get your e-visa approved in as little as two hours by following a few easy steps.
Second, our rapid service offers assurance. Any worries or fears can be allayed by knowing that your visa application is in the hands of qualified experts who are committed to providing a quick and easy procedure. Our crew is knowledgeable with the prerequisites and processes for acquiring a Vietnam e-visa, and we exert great effort to make sure that all required paperwork is filed accurately and on time. This level of care reduces the possibility of problems or delays, enabling you to travel with assurance.
The convenience that our accelerated service provides is yet another important advantage. You might not have much time to spare as a tourist from Canada to cope with formalities. Our service frees up your time so you can concentrate on other parts of your vacation by removing the need for pointless paperwork and embassy visits. Our accelerated service makes sure that the visa application procedure does not become a hassle or take away from your overall vacation experience, whether you are arranging business meetings or planning scenic excursions.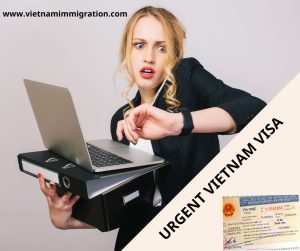 3/ ways tourists from Canada might save time with the faster e-visa process
Our accelerated e-visa service is intended to speed the visa application procedure for travellers from Canada. We have done away with the necessity for in-person trips to the embassy or consulate, which may be time-consuming and cumbersome, by using an online platform. Instead, you may complete the full application procedure whenever it is convenient for you, from the comfort of your home or workplace.
The streamlined application process is one of the primary advantages of our expedited e-visa service in terms of time savings. The procedure has been streamlined to make the form user-friendly and simple to browse, reducing the amount of time needed to enter the essential data. Additionally, our team of professionals is accessible to help you at any time during the application process, giving advice and direction to make sure your application is done properly and effectively.
The faster processing time is another time-saving aspect of our expedited service. While processing traditional visa applications might take weeks, our solution promises a far quicker turnaround. You may confidently make your trip arrangements after receiving your e-visa clearance in as little as 2 hours. Those with tight schedules or last-minute travel requirements will benefit the most from this shortened processing time.
4/ How to apply for a speedy Vietnam e-visa as a visitor from Canada
As a traveler from Canada, requesting our expedited Vietnam e-visa service is an easy and simple process. You must first visit our website and find the e-visa application page to get started. You may fill out a simple form below that asks for basic personal information such your name, passport information, and contact data.
https://www.vietnamimmigration.com/apply-vietnam-visa/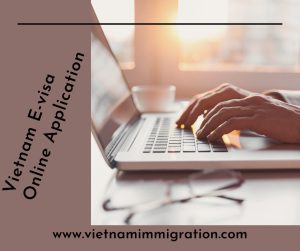 You will be asked to add any required supporting documents after submitting the form. These might include a current passport-sized photo and a scanned copy of your passport. It is crucial to make sure that all of your documents are clear and readable since any inconsistencies or mistakes might cause the processing of your application to be delayed.
Our team of specialists will check your application once you have submitted it along with any supporting materials to make sure that all pertinent information has been included. We will swiftly get in touch with you to ask for any other details or paperwork if necessary. We will start processing your application as soon as it is finished and fulfills all standards. Our objective is to get your e-visa acceptance in as little as two hours.
5/ How Canadian travelers might benefit from quicker Vietnam e-visa processing
In conclusion, our accelerated service enabling Canadian travellers to rapidly receive a Vietnam e-visa is a game-changer for tourists hoping to experience Vietnam's beauty without having to deal with a protracted visa application procedure. You may save time, gain peace of mind, and benefit from a more convenient application procedure by making use of our skilled staff and optimized online platform.
The days of standing in line for hours and completing pointless paperwork are long gone. You won't need to make repeated journeys to the embassy or consulate if you use our expedited service to apply for your e-visa from the convenience of your home. Our skilled staff is committed to making sure that everything goes smoothly and quickly while reducing the possibility of problems or delays.
Why then wait? Plan your trip to Vietnam right now, and let us handle the quick and efficient visa application procedure for you. Our accelerated service will help you swiftly get your Vietnam e-visa so you can concentrate on what truly matters—exploring the fascinating culture, breathtaking scenery, and mouthwatering food that Vietnam has to offer. Allow the visa application procedure to not hold you back. Choose our accelerated service to enjoy the advantages of a quick and easy transaction.