2024 Urgent visa
Easy Ways to Accelerate the Vietnam Visa Process for Portuguese Nationals 2024
When considering a trip to Vietnam, Portuguese nationals must confirm they have the proper visas. The process of acquiring a visa can be time-consuming at times, but there are methods to speed up the process. This post will look at the elements that influence Vietnam visa processing times for Portuguese nationals, as well as simple techniques to expedite the process.
1/ Factors influencing the processing time of a Vietnamese visa for Portuguese nationals
Several variables might influence the processing time for Portuguese people seeking visas to Vietnam. The type of visa requested is one of the most important considerations. Because various visas may need varying processing times, it is critical to select the right visa category based on the purpose of the visit.
The present workload of the embassy or consulate where the visa application is being handled might also impact the processing time. Due to the large amount of applications during busy travel seasons or holidays, processing times may be longer.
The timeliness of the visa application is also affected by its correctness and thoroughness. Any mistakes or missing information might cause delays since the embassy or consulate may need to contact the applicant for clarification or further documentation.
2/ Recognize the standard processing time for Vietnamese visas for Portuguese nationals
The normal processing period for Vietnamese visas for Portuguese nationals is 3 to 7 working days. This includes the time it takes the embassy or consulate to assess the application, process the required papers, and issue the visa.
It is critical for Portuguese nationals to factor this processing time into their travel plans to Vietnam. It is best to apply for the visa far ahead of time to allow for any unforeseen delays.
3/ The significance of speeding visa processing for Portuguese citizens
For Portuguese people with urgent travel plans or who need to enter Vietnam on short notice, expedited visa processing might be critical. Travelers can avoid last-minute problems and the danger of missing their scheduled vacation by expediting visa processing.
Additionally, shortening the visa processing time can give passengers with peace of mind and minimize stress. They can concentrate on other areas of their vacation planning since they know their visa will be completed swiftly.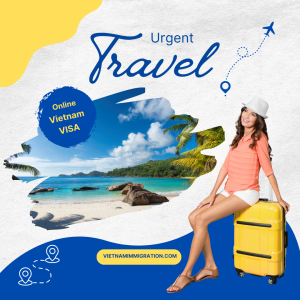 4/ Suggestions for accelerating Vietnam visa processing for Portuguese nationals
There are a few steps Portuguese citizens may take to accelerate the processing of their Vietnam visa application. Consider the following suggestions to speed the Vietnam visa process:
Using a trustworthy visa service to accelerate the procedure
Using the services of a reliable visa agency is one of the simplest methods to shorten the visa processing time. These organizations have knowledge and experience in managing visa applications and can help you through the procedure smoothly. They have ties with embassies and consulates that can assist speed up the processing time.
If you don't know of any visa agencies, you can utilize our service by clicking here. We provide an urgent visa service that allows you to obtain a visa in a matter of hours: https://www.vietnamimmigration.com/apply-vietnam-visa/
submitting an accurate and full visa application
To minimize needless delays, Portuguese nationals must submit a thorough and correct visa application. This involves submitting the necessary documentation, such as a valid passport, passport-sized pictures, and any supporting papers applicable to the visa type.
Before submitting the application, double-check it for any inaccuracies or missing information to save time and avoid unnecessary interaction with the embassy or consulate.
Choosing express or expedited processing services
For an extra price, certain visa firms provide express or rapid processing services. Portuguese people can greatly decrease the processing time of their visa application by using these services. Express processing is frequently completed in 1 to 2 working days, or even a few hours, providing a quick visa acceptance.
Using VIP or priority visa services
Priority or VIP visa services are provided for people who need their visas processed as soon as possible. These services emphasize visa application processing, assuring a speedy response time. While these services are more expensive, they might be quite useful for Portuguese nationals who need to travel quickly.
Finally, acquiring a visa for Vietnam as a Portuguese national does not have to be a time-consuming process. Portuguese citizens may assure a smooth and quick visa acceptance by recognizing the elements that determine processing time and following the simple strategies to speed up the process.
Using a reputable visa agency, completing a comprehensive application, selecting for quick processing services, or employing priority or VIP services can all assist Portuguese people speed the Vietnam visa processing time. By utilizing these tactics, tourists may concentrate on enjoying their vacation to Vietnam without experiencing any unwanted delays.