2023 Vietnam Visa
Vietnam Travel Visa For INDIA Nationals 2023 – Requirements, Documents, and Application Instructions
Vietnam is an excellent tourism destination for INDIA nationals currently. One of the most important factors in ensuring that INDIA tourists have a pleasant journey to Vietnam is ensuring that they know how to apply for a Vietnam travel visa. This page clarifies relevant information on Vietnam travel visa requirements and the application process for Indian people.
1/ Requirements on Vietnam travel visa for INDIA nationals 2023
When arranging to go to Vietnam, INDIA typically think that they don't need to get a visa for entering Vietnam.
However, please be informed that INDIA is not on the list of countries enjoying exemption of entrance visa to Vietnam. Therefore, INDIA nationals if they wish to visit Vietnam, must apply for a travel visa and ensure following entrance conditions:
Possess a passport valid for at least six months from the date of entry in India.
Have 2 blank passport pages for visa stamp.
A travel visa is necessary, and it is advised that INDIA visitors apply for one at least 10 days before to trip.
2/ How to apply Vietnam travel visa for INDIA nationals 2023
INDIA passport holders have three alternatives for applying for travel visa to Vietnam: Embassy visa, Visa on arrival, and E-visa.
2.1/ Indians apply for a Vietnam visa at the Vietnamese embassy
INDIA passport holders may apply for Vietnam travel visa at the Embassy or consulate of Vietnam. Please visit this page for a list of embassies and consulates of Vietnam in your country:
https://www.vietnamimmigration.com/category/vietnam-embassy/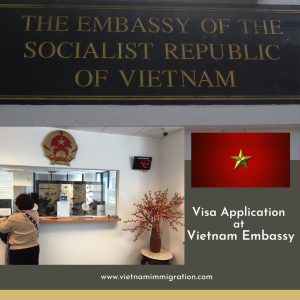 During 5 to 7 business days, the visa will be granted.
Documents required to apply Vietnam travel visa at the embassy for INDIA people?
Original passport which is valid longer than 6 months
Two pictures measuring 4 x 6 centimetres with a white backdrop
Visa application form
Additional documents to prove the trip purpose, such as an airline ticket and hotel reservation (if required)
2.2/ Apply for Vietnam travel visa on arrival for INDIA persons
Visa on arrival is the procedure wherein you acquire an acceptance letter for entrance permission first, then utilise this letter to get visa at the airport upon arriving to Vietnam.
How to apply?
INDIA nationals may get a Vietnam visa on arrival in four straightforward procedures.
Apply online for an acceptance letter at https://www.vietnamimmigration.com/apply-vietnam-visa/
Complete the application online
Confirm and make a secure online payment
Obtain an electronic copy of the permission letter and print a paper copy.
Obtain the visa stamp upon entry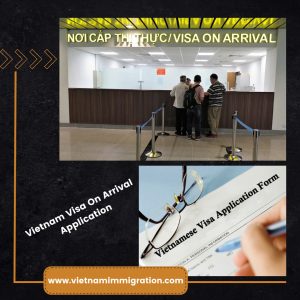 What documents are required to apply for Vietnam visa upon arrival for Indian citizens?
Online clearance letter applications do not need any supporting documentation. However, the following papers are needed to receive a Vietnam visa stamp upon arrival:
Passport from India
Form for entrance and departure
Visa acceptance letter
Two passport-sized photographs (4x6cm)
Visa stamping fee (by cash)
2.3/ Request a Vietnam travel e-visa from India
India is one of 80 countries eligible for online e-visa applications. Vietnamese Immigration Department issues this electronic visa. E-visa for Vietnam is valid for a maximum of 30 days, with a single entry.
How can I apply?
The E-visa application procedure for INDIA nationals travelling to Vietnam is straightforward and conducted entirely online. The procedure involves the following five steps:
Visit the Vietnam e-Visa Application website at https://www.vietnamimmigration.com/apply-vietnam-visa/ .
Provide all essential information and submit a picture of the passport page and a photo of yourself without glasses.
Pay the E-visa processing charge. The turnaround time will be three business days.
If given an E-visa, you must print it before entering Vietnam.
When entering Vietnam, just present your passport and e-visa to get an entrance stamp.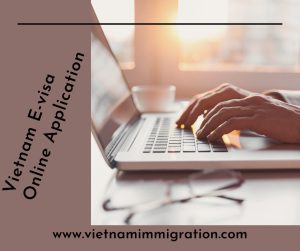 What documents are required to apply for Vietnam e-visa from India?
TO APPLY FOR A VIETNAM E-VISA, INDIAN APPLICANTS MUST:
INDIA passport validity must be at least six months
A photograph or scan of your passport's complete data page
A picture of the subject without glasses
In conclusion, INDIA residents may apply for a Vietnam travel visa in a variety of methods, but online application is regarded the simplest and most time-efficient option. If you have any further questions concerning Vietnam visas for travel, please contact us at info@vietnamimmigration.com .