2023 Vietnam Visa
[Vietnam Tourist Visa For IRELAND Citizens 2023] How to Obtain an Online Tourist Visa for Vietnam with an IRELAND Passport
Vietnam is a beautiful tourist destination with scenes of conflict, wooden sampans, floating marketplaces, gorgeous beaches, and rice fields of fresh life. All of these things may be found in Vietnam. You won't really appreciate this land's magnificent natural features unless you actually set foot on it, however. Every nation requires visitors to have a valid visa before entering the country, and Vietnam is no exception. People from IRELAND are need to have a valid Vietnam tourist visa in order to enter the country for a vacation. What exactly is a Vietnam tourist visa, and how can people of Ireland apply for one?
1/ Vietnam Tourist visa for citizens of Ireland
Tourist visas for Vietnam may be obtained by holders of Irish passports and by other applicants with travel plans that include a stop in Vietnam. The tourist visa for Vietnam may only be used for trips that are relatively short in length or visits to Vietnam.
The following applies to nationals of Ireland in need of a Vietnam tourist visa:
The tourist visa for Vietnam that may be obtained with an IRELAND passport is good for a maximum of three months, however the one that is most often chosen is valid for thirty days. The validity will begin to be measured from the date that is indicated in the visa approval rather than counting from the day that the individual actually enters the country. Even if visitors from IRELAND reach Vietnam on January 12th, their 30-day Vietnam tourist visas will only be valid until the 31st of January if the approval date of their visas is January 1st to January 31st. This is the case even if they have a visa that allows them to stay in Vietnam for 30 days.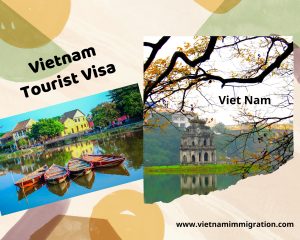 2/ Types of Tourist Visas Required for Visitors from IRELAND to Visit Vietnam in 2023
Tourist visas for Vietnam may be obtained for IRELAND passport holders on both a single-entry and multiple-entry basis. It is not necessary for visitors from IRELAND to apply for a new visa each time they enter Vietnam if they have a multiple entry visa that allows them to travel often and visit many countries. In contrast, in the event that visitors from IRELAND apply for a single entry visa, their visa will become invalid the moment that they leave Vietnam.
Tourists from IRELAND are required to apply for a single entry tourist visa if this will be their only trip to Vietnam.
Tourists from IRELAND are required to apply for a multiple entry tourist visa if this will be their first trip to Vietnam but they intend to return numerous times later.
3/ Information for people of Ireland on how to get a tourist visa for Vietnam in 2023
You have the option of applying in person or electronically for a tourist visa to Vietnam if you have an Irish passport.
3.1/ Apply for a Vietnam visa at Vietnamese Embassy or consulate for citizens of Ireland
Citizens of IRELAND have the ability to put together the necessary paperwork and apply for a visa to Vietnam at any of Vietnam's embassies or consulates. Applicants from IRELAND may look for listings of Vietnam embassies and consulates at the following website: https://www.vietnamimmigration.com/category/vietnam-embassy/ .
Visitors from IRELAND are required to submit their visa applications for Vietnam at the Vietnam Embassy in person. Applicants for IRELAND must make two separate trips to the embassy: the first trip is to submit their visa application, and the second trip is to collect the results of their application.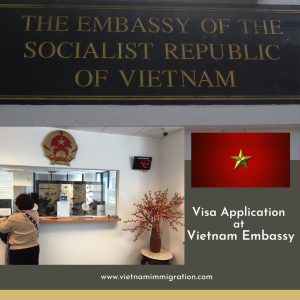 Some embassies encourage applicants to submit their visa applications via mail or email rather than in person so that they may avoid lengthy lines and save time. In the event that applicants from IRELAND are unable to make it to the embassy in person owing to a significant distance or other circumstances, they are encouraged to get in touch with the consular office in advance to determine whether or not a postal application would be accepted.
When an application for a Vietnam visa is received, the approval process might take anywhere from five to seven working days to complete.
3.2/ Online application for Vietnam visa by citizens of IRELAND in 2023
Citizens of Ireland may get a Vietnam visa in the fastest and most convenient manner by using this method. Applicants from IRELAND who want to apply for a visa to Vietnam online are required to have the following papers ready:
Passport (scan or picture of data page)
a picture of the individual (without glasses)
When applying for a visa to Vietnam online by email, the process takes just three working days for standard service and one working day for urgent service. Tourists from IRELAND are simply need to print out their visa and present it upon entry into Vietnam after it has been granted.
If you have a passport from Ireland and want to apply for a visa to Vietnam online, just follow these easy steps:
STEP 1: COMPLETE THE APPLICATION FOR A VIETNAM VISA
Go to https://www.vietnamimmigration.com/apply-vietnam-visa/ to access the online Vietnam visa application form for citizens from IRELAND.
Please provide the requested information, which includes your full name, date of birth, passport number, nationality, date of arrival, port of arrival, etc.
Choose urgent service (if any)
Be sure to carefully type your email address
Attach a picture of yourself and your passport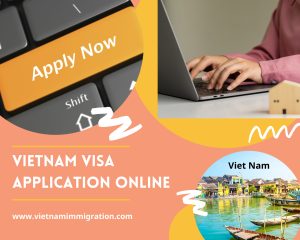 STEP 2: REVIEW THE INFORMATION, THEN MAKE YOUR PAYMENT
It is imperative that you verify all of your details before submitting payment. If you make any changes after the payment, additional costs may apply.
STEP 3: RECEIVE VISA APPROVAL AND GET VIETNAM ENTRY PERMIT
After the processing has been completed, the visa will be emailed to the email address that you provided on the application form. Make sure that all of the information on your visa is right, then print it off and start getting ready for your trip to Vietnam.
Visitors from Ireland need to present their passport and visa upon arrival at any airport, landport, or seaport in Vietnam. The immigration authorities will verify the passengers' passports before sticking the entrance stamp onto them.
We have just finished going through the details of the Vietnam tourist visa for Irish nationals, as well as the steps required to get a Vietnam tourist visa using an Irish passport. Please don't hesitate to get in touch with us at info@vietnamimmigration.com if you have any questions or concerns about your visa application.