2023 Vietnam Visa
Guidelines for Canadians Applying for a Vietnam Travel Visa in 2023
In recent years, Vietnam has developed as a popular travel destination for people from Canada. Making sure Canadians know how to apply for a Vietnam travel visa is a major step in ensuring a pleasant vacation. This page will assist Canadian nationals understand the Vietnam visa application process and the prerequisites for obtaining a Vietnam travel visa.
1/ Vietnam travelvisa requirements for Canadians in 2023.
Canadians who are planning a trip to Vietnam normally assume that they do not require a visa.
Note, however, that Canada is not among the nations whose citizens do not need a visa to enter Vietnam. Consequently, Canadians who want to visit Vietnam must submit an application for a visa and meet the following entrance requirements:
Possess a valid passport for at least six months after the intended date of arrival.
Have two unused stamping pages in your passport.
Tourists from Canada are advised to apply for a visa at least 10 days before to departure since this is the minimum amount of time necessary to process the application.
2/ Detailed instructions for obtaining a travel visa to visit Vietnam for citizen of Canada 2023
Canadian citizens have a choice between applying for a visa at an embassy, applying for a visa at the airport, or applying for an electronic visa to Vietnam.
2.1/ Canadian citizens can submit an application for Vietnam travel visa at Vietnamese embassy
Visas for traveling to Vietnam may be obtained via the Vietnamese embassy or consulate in Canada. If you need contact information for the Vietnamese Embassy or Consulate in your country, you may find it at the following link:
https://www.vietnamimmigration.com/category/vietnam-embassy/
Approval of a visa might take from five to seven business days to process.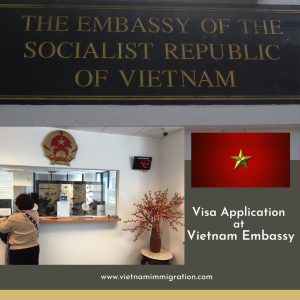 What do citizens of Canada need to provide to the Vietnam embassy in order to apply for a Travel Visa?
To apply for a Vietnam travel visa, you'll need:
Original, valid passport (for at least another six months);
two 4x6cm photographs with a white backdrop.
Original documents (flight itinerary, hotel reservation confirmation, etc.) to back up your reason for travelling (if required)
2.2/ Canadians may get a visa to Vietnam upon arrival if they apply online in advance
To get a visa upon arrival in Vietnam, visitors must first obtain an approval letter for entrance permission before presenting themselves at the airport.
Instructions for Submitting an Application
In only 4 easy steps, Canadians may get a Vietnam visa upon arrival.
Visit https://www.vietnamimmigration.com/apply-vietnam-visa/ to submit an application for a travel visa to enter Vietnam.
Complete the online application form; Confirm your application; Pay using a secure payment gateway
Get the permission letter through email, then print it out.
Visas may be stamped at the airport upon arrival.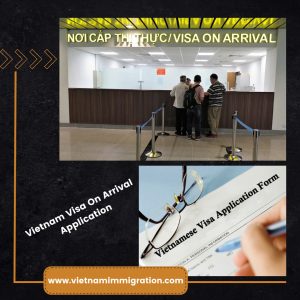 What does Canada need for a visa on arrival to Vietnam?
Online permission letter applications for CANADIANS do not need any supporting documentation. But you'll need the following in order to have your Vietnam visa stamped when you arrive:
Canada Passport,
Entry/Exit Form,
Visa Approval Letter,
Two Passport-Sized Photos (4x6cm)
Amount Required to Have Your Visa Stamped (by cash)
2.3/ Vietnam travel e-visa applications for Canadian citizens
E-visa applications may be submitted online from citizens of 80 different countries, including Canada. The Vietnamese Immigration Department has granted this electronic visa. The 30-day Vietnam e-visa is single-entry only.
Instructions for Submitting an Application
Citizens of Canada may get their Vietnam E-visas quickly and easily online. The procedure includes the following five stages:
Go to https://www.vietnamimmigration.com/apply-vietnam-visa/ to apply for your Vietnam e-Visa online.
Please submit a picture of yourself without glasses, and passport scan, and filling out all relevant fields.
Be sure to pay the E-visa cost. There will be a three-day processing.
You must have a printed copy of your approved E-visa in order to enter Vietnam.
Passport and e-visa need only be shown to get an entrance stamp when entering Vietnam.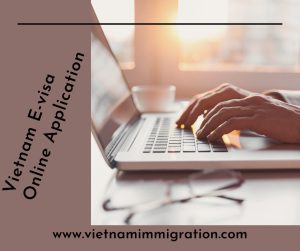 What does a Canadian citizen need to apply for a travel electronic visa to Vietnam?
Canadians applying for a Vietnam travel e-visa should have the following ready:
All Canadian passports must have a minimum validity of six months.
A copy or scan of the information page from your passport
A picture of yourself without spectacles.
In conclusion, Canadian residents have a number of options when applying for a Vietnam travel visa, however applying for a visa online is often regarded as the quickest and most hassle-free option. Feel free to contact us at info@vietnamimmigration.com  with any further questions you may have regarding obtaining a Vietnam visa in order to go to the country.