2024 Urgent visa
Easy Methods to Quicken the Vietnam Visa Application Procedure for Austrian Citizens 2024
Austrian citizens traveling to Vietnam must check visa requirements before departure. The time it takes to secure a visa might vary, but there are methods to speed up the process. This essay will go into what causes delays in getting a Vietnam visa for Austrian citizens, and then offer simple solutions to this problem.
1/ Timeliness of Vietnam visa applications from Austria
Visa processing times for Austrian nationals applying for Vietnam entry may vary depending on a number of criteria. The category of visa being sought is a major consideration. Depending on the objective of the trip, one must apply for a certain type of visa, the processing period for which may vary.
The visa office's present workload is another variable that might lengthen the time it takes to issue a visa. Due to a higher than usual application volume, processing times may increase during busy travel periods and holidays.
The time it takes to obtain a visa is heavily influenced by how precise and comprehensive the application is. If there are any typos or missing papers, the embassy or consulate will need to get in touch with the applicant, which might take time.
2/ how long it typically takes to get a Vietnam visa for citizens of Austria
Visas for Vietnam normally take between 3 and 7 business days to complete for Austrian citizens. Time spent waiting for an embassy or consulate to evaluate paperwork, conduct an interview, and issue a visa is factored into this total.
Austrian citizens should include in this processing period when making travel plans to Vietnam. It's best to apply for the visa with plenty of time to spare in case there are any complications.
3/ speeding up the visa application procedure for Austrian citizens
Austrian citizens who need to go to or visit Vietnam quickly may find expedited visa processing to be a lifesaver. Travelers may avoid last-minute hassles and the possibility of missing their flight by applying for their visas in a more timely fashion.
Travelers may rest easy and feel less pressured if their visas are processed quickly. They may relax and concentrate on other areas of vacation planning knowing that their visa will be completed rapidly.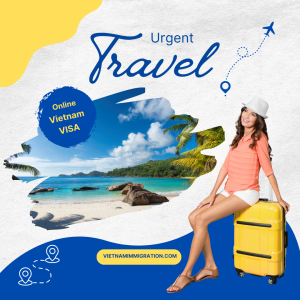 4/ hints to help Austrians get their Vietnam visas quickly
Austrian citizens can speed up the approval of their Vietnam visa application by following a few simple guidelines. Below are some suggestions that might help speed up the application process for a Vietnam visa:
Faster visa processing with a reliable service
Using a reliable visa agency's services is a simple approach to shorten the time it takes to obtain a visa. These organizations are accustomed to processing visa applications and know their way around the system with ease. They've built rapport with relevant embassies and consulates, which can shorten the procedure time.
If you're unfamiliar with visa services, you may utilize ours by clicking here. We provide an expedited visa service that can get your visa to you in as little as a few hours: https://www.vietnamimmigration.com/apply-vietnam-visa/
Applying for a visa in a timely manner
It is critical for Austrian citizens to submit a full and correct visa application to prevent any needless delays. Applicants must submit their complete application bundle, which consists of a valid passport, two passport-sized pictures, and any additional supporting papers required for the visa category.
In order to save time and avoid additional interaction with the embassy or consulate, it is a good idea to double-check the application for any inaccuracies or missing information before submitting it.
Using a quick service or express processing
For a steep premium, several visa providers promise "express" or "rush" processing of your application. Austrian citizens can drastically cut the time it takes to get a visa by using these services. Express processing ensures a quick visa acceptance and may often be completed within 1–2 working days.
Using a service for expedited or special visas
Priority or VIP visa services are provided for customers who want expedited visa processing. These assistance programs guarantee a speedy response time by giving the visa application first priority. Austrian citizens with last-minute travel needs may find the higher cost justified.
In conclusion, Austrian citizens need not worry about the amount of time it takes to receive a Vietnam visa. Austrian citizens may assure a smooth and quick visa acceptance by learning the elements that determine the processing time and then following the simple strategies to speed up the procedure.
The processing time for a Vietnam visa for Austrian nationals can be reduced by following these guidelines: using a reputable visa agency; submitting a full application; selecting express processing services; and selecting priority or VIP services. Using these tips, visitors may avoid common pitfalls and make the most of their time in Vietnam.