2024 Urgent visa
Easy Ways to Hasten the Vietnam Visa Application Process for Irish Citizens 2024
Irish nationals should make sure they have the appropriate visa before traveling to Vietnam. There are ways to speed up the visa application process, but it might occasionally take a while. This article will examine the elements that impact Irish citizens' processing times for Vietnam visas as well as offer simple techniques for expediting the procedure.
1/ Elements that impact Irish citizens' wait times for Vietnam visas
The length of time it takes to process an Irish citizen's Vietnam visa depends on a number of criteria. The kind of visa being sought is one of the key variables. The processing periods for various visa types might vary, therefore it's crucial to select the right visa type based on the intended use of the trip.
The volume of work being done at the embassy or consulate where the visa application is being processed might also have an impact on the processing time. Due to the high amount of applications, processing times may extend during busy travel times or on holidays.
The correctness and completeness of the visa application have a big impact on how quickly it is processed. Any mistakes or omissions might cause delays since the embassy or consulate may need to get in touch with the applicant for clarification or further supporting documentation.
2/ Understanding the typical turnaround time for Irish citizens applying for visas to Vietnam
Normally, it takes 3 to 7 working days to complete an Irish national's visa to Vietnam. This period of time takes into account the time needed for the embassy or consulate to examine the application, complete the required paperwork, and grant the visa.
Irish nationals traveling to Vietnam should consider this processing time when making travel arrangements. To account for any unforeseen delays, it is advised to submit the visa application well in advance.
3/ The significance of accelerating Irish nationals' visa processing
Irish people who need to visit Vietnam quickly or who have urgent travel arrangements may find it essential to have their visa applications processed quickly. Travelers can prevent any last-minute issues or the possibility of missing their scheduled vacation by hastening the visa processing time.
Additionally, reducing the length of time it takes to obtain visas can provide passengers peace of mind and lessen their stress. They may concentrate on other parts of vacation planning knowing that their visa will be approved fast.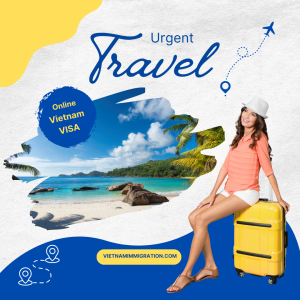 4/ Advice for Irish citizens to speed up the Vietnam visa application procedure
Irish nationals can follow a few recommendations to hasten the processing of their Vietnam visa application. Consider the following advice to speed up the Vietnam visa application process:
Utilizing a reliable visa company for quick processing
Using the services of a reliable visa agency is one of the easiest methods to shorten the time it takes to process a visa. These organizations are skilled and experienced in managing visa applications, and they can go through the procedure quickly. They are able to shorten the processing time because to their existing connections with embassies and consulates.
If you don't know of any visa agencies, you can utilize our service by clicking here. We provide an expedited visa service that enables you to obtain a visa in only a few hours: https://www.vietnamimmigration.com/apply-vietnam-visa/
submitting a visa application that is comprehensive and correct
It is critical for Irish people to submit a thorough and correct visa application to prevent any needless delays. This entails presenting the necessary paperwork, such as a current passport, passport-sized photos, and any other supporting paperwork unique to the visa type.
Before submitting the application, make sure it is free of mistakes and has all the necessary information. By doing this, you may save time and avoid having to contact the embassy or consulate again.
selecting express or expedited processing options
For an extra price, certain visa firms provide express or rapid processing services. Irish people can drastically shorten the time it takes for their visa application to be processed by choosing to use these services. Express processing frequently results in a swift visa acceptance and can be finished in only one to two working days, if not a few hours.
using VIP or priority visa services
Priority or VIP visa services are accessible to people who need their visas processed as quickly as possible. These services give the processing of the visa application first priority, guaranteeing a speedy response. Although these services could be more expensive, they might be quite helpful for Irish citizens who have pressing travel arrangements.
In conclusion, getting a visa for Vietnam doesn't have to be a difficult procedure for Irish citizens. Irish citizens may guarantee a smooth and quick visa acceptance by recognizing the elements that determine the processing time and adhering to the simple strategies to speed up the procedure.
These suggestions can reduce the time it takes for Irish people to obtain a Vietnam visa, whether it be by using a reputable visa agency, completing a comprehensive application, selecting express processing options, or employing priority or VIP services. By utilizing these tactics, visitors may avoid any needless delays and concentrate on enjoying their vacation to Vietnam.