2023 VOA
3 Easy Steps for Hong Kong Residents Traveling to Ho Chi Minh City in 2023 to Get a Vietnam Landing Visa
This page might be helpful to travelers from Hong Kong who want to visit Vietnam through Ho Chi Minh airport since it provides a wealth of information about the entry procedure and landing visa process there. Landing visas are now one of the best ways to obtain a Vietnam visa, therefore residents of Hong Kong should take some time to read the information below.
How to apply for a Vietnam landing visa for Hong Kong citizens at Ho Chi Minh Airport
For inhabitants of Hong Kong, the procedure to get a landing visa for Vietnam normally involves 3 steps:
1/ Request an online visa acceptance letter
The formal entrance permission is known as an approval letter, and it is granted by Vietnam's immigration department. For citizens of Hong Kong, this is a necessary document to obtain a visa at the Ho Chi Minh airport. Travelers from Hong Kong who do not have a visa approval letter will not be permitted to fly to Ho Chi Minh and will not be able to obtain a landing visa there.
Hong Kong visitors must complete the application form with the exact details from their passport in order to receive a visa acceptance letter. Make sure there are no errors to prevent any potential delays in the Vietnam visa approval process. For citizens of Hong Kong, visit https://www.vietnamimmigration.com/apply-vietnam-visa/  to fill out a visa application.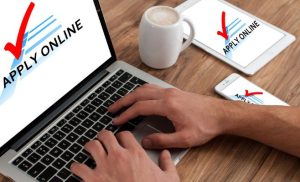 2/ Print the visa approval letter
Travelers from Hong Kong should allow 3 to 8 working days for the processing of the visa acceptance letter. It will be delivered through email after it has been authorized, and you should print it off. Moreover, a NA1 entry-exit form is required. Any printout must be easily readable, therefore making a small number of copies might be a wise precaution.
3/ Reach Ho Chi Minh City
Hong Kong nationals must visit the "Landing Visa office" to obtain the visa stamp upon arrival in Ho Chi Minh City. Bring the printed approval letter, original passport (which must have at least 6 months of remaining validity), filled-out NA1 form, and 2 passport-sized photos (which must have a white background). To prevent issues at the airport, all documentation must be thoroughly prepared in advance.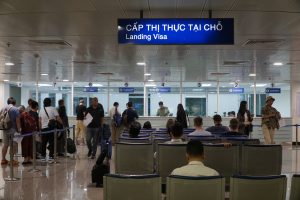 To expedite the application procedure, the visa application form (NA1) may be filled out in advance or at the airport in Ho Chi Minh City. People from Hong Kong will receive a one-page visa sticker for Vietnam once their visa application has been finalized.
Moreover, there is a cash-only cost of $25 for single entrance stamping and $50 for repeated entry stamping at Ho Chi Minh Airport. USD or VND must be used to pay cash. The full procedure to obtain a Vietnam landing visa at Ho Chi Minh for citizens of Hong Kong takes between 15 and 25 minutes, depending on how crowded the airport is.
In conclusion, Hong Kong residents travelling to Ho Chi Minh City might consider a Vietnam landing visa as a viable choice. Although obtaining a landing visa in Ho Chi Minh City is a simple process, don't forget to apply for an approval letter beforehand. Please email us at info@vietnamimmigration.com  if you would like additional information regarding the landing visa for nationals of Hong Kong in Ho Chi Minh.