2023 VOA
3 Simple Steps to Get Vietnam Landing Visa For Australian Citizens Flying to Ho Chi Minh 2023
This article is helpful for Australians planning to visit Vietnam through Ho Chi Minh City since it details the entry procedure and landing visa procedures at the airport. Australians should take a few minutes to familiarise themselves with the landing visa process, since it is currently one of the best options for obtaining a Vietnam visa.
How Australian citizens may get a landing visa for Vietnam at the Ho Chi Minh City airport
Australian people often follow these 3 procedures to get a Vietnam landing visa:
1/ Go online and request a visa acceptance letter
The Vietnam immigration department's approval letter serves as the official entrance authorisation. This is a crucial visa document for Australian citizens to provide at the Ho Chi Minh City airport. Visitors from Australia who do not have a visa approval letter will be denied boarding and a landing visa upon arrival in Ho Chi Minh City.
Australian visitors applying for a visa must use the information included in their passports to fill out the application form. Verify everything is correct to avoid unnecessary hold-ups in the Vietnam visa approval process. Australian citizens may access the Vietnam visa application at https://www.vietnamimmigration.com/apply-vietnam-visa/ .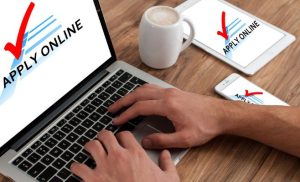 2/ Print out the visa acceptance letter
Tourists from Australia should allow three to eight business days for the immigration to process their visa clearance letter. It will be provided to you through email for printing after it has been approved. A NA1 entry-exit form is also required. It's best to print off only a small number of copies as a precaution, as each one has to be readable.
3/ Arrive at Ho Chi Minh City
Australian citizens should visit the "Landing Visa office" upon arrival in Ho Chi Minh City with their printed approval letter, original passport (with at least six months of validity remaining), completed NA1 form, and two passport-sized photos (white background is required) in order to obtain a visa stamp. To prevent delays at the airport, make sure you have all of your paperwork in order well in advance.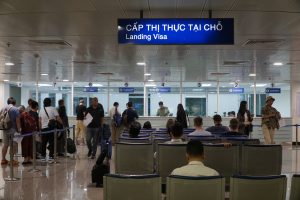 The visa application form (NA1) may be filled out at Ho Chi Minh City International Airport or printed out ahead of time to save time. Australian citizens applying for a Vietnam visa will get a one-page visa sticker to affix to their passports once their application has been finalised.
In addition, there is a cost (paid in cash) associated with the stamping process at the Ho Chi Minh City airport: $25 for a single admission and $50 for repeated entries. Cash are accepted in US Dollars or Vietnamese Dong. The time it takes Australians to obtain a Vietnam landing visa in Ho Chi Minh might range from 15 to 25 minutes, depending on airport traffic.
For Australians travelling into Ho Chi Minh City, the Vietnam landing visa is recommended. Although obtaining a landing visa in Ho Chi Minh City is straightforward, you must remember to request for an approval letter in advance. Please email us at info@vietnamimmigration.com  for additional information regarding the Ho Chi Minh landing visa for Australian nationals.