2023 VOA
Three Straightforward Ways to Acquire a Vietnam Landing Visa for American Travelers to Ho Chi Minh in 2023
Vietnam Landing Visa is a visa option that allows American travelers to receive a Vietnam entrance visa upon arrival at one of the recognized international airports. This article clarifies the procedure for obtaining a Vietnam landing visa for American citizens flying to Ho Chi Minh City.
How Americans may apply for a Vietnam landing visa at Ho Chi Minh airport
The standard procedure for obtaining a Vietnam landing visa for U.S. citizens consists of three phases.
1/ Apply for visa acceptance letter online
The approval letter is the official entrance authorization provided by the immigration department of Vietnam. This is the essential paperwork for American citizens to obtain a visa at the Ho Chi Minh airport. Americans without visa clearance letters will not be permitted to fly to Ho Chi Minh and will not be able to get landing visas at Ho Chi Minh.
To get a visa acceptance letter, American travelers must complete the application form using their passport information. Verify that there are no errors to avoid any potential visa approval delays for Vietnam. The visa application form for U.S. citizens is available at https://www.vietnamimmigration.com/apply-vietnam-visa/ .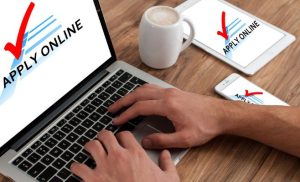 2/ Print visa acceptance letter
Three to eight business days are required for the processing of visa acceptance letters for US visitors. After approval, the document will be emailed and should be printed. In addition, a NA1 entry-exit form is required. Any printout must be readable, therefore printing a small number of copies might be a prudent precaution.
3/ Arrival in Ho Chi Minh City
The visa stamp must be obtained at the "Landing Visa office" upon arrival in Ho Chi Minh with the printed permission letter, original passport (with at least six months of validity left), completed NA1 form, and two passport-sized pictures (white background necessary). To prevent issues at the airport, all documentation must be meticulously prepared beforehand.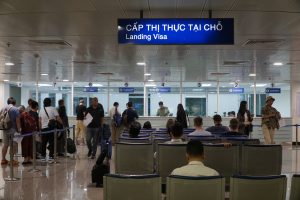 To expedite the application procedure, the visa application form (NA1) can be filled at Ho Chi Minh airport or printed in advance. Once the visa application has been approved, Americans will get a one-page visa sticker for Vietnam.
In addition, the stamping procedure at Ho Chi Minh airport is subject to a cash-only cost of $25 for a single entrance and $50 for repeated entries. Cash payments must be made in USD or VND. American citizens can obtain a Vietnam landing visa at Ho Chi Minh in around 15 to 25 minutes, depending on the airport's activity level.
The Vietnam landing visa is seen as a viable alternative for American citizens travelling to Ho Chi Minh City. The method to obtain a landing visa in Ho Chi Minh is likewise relatively straightforward; however, you must request for a permission letter in advance. Please contact us at info@vietnamimmigration.com  for additional information regarding landing visas for American citizens at Ho Chi Minh.