2023 Vietnam Visa
[Vietnam Tourist Visa for PORTUGAL Nationals in 2023] Get Your Vietnam Visa Online in PORTUGAL NOW!
War relics, wooden sampans, floating marketplaces, beautiful beaches, and green rice paddies await visitors in Vietnam. You will feel the beauty of this place the moment you set foot on it. Every nation has different entry requirements, and Vietnam is no exception. Tourist visas are required for citizens of PORTUGAL to enter Vietnam for a visit. In that case, what exactly is a Vietnam tourist visa, and how can Portuguese people go about obtaining one?
1/ Portuguese nationals need a visa to visit Vietnam
Tourist visas for Vietnam are available to applicants holding passports from PORTUGAL. A tourist visa for Vietnam is required solely for brief stays in the country.
PORTUGAL nationals' Vietnam tourist visa validity:
The standard length of time for which a tourist visa to Vietnam may be granted for a PORTUGAL passport is 30 days. The visa's validity period will begin on the day of approval, not the date of arrival. Even if Portuguese visitors reach Vietnam on January 12th with a 30-day tourist visa, their visa will only be valid until January 31st if the visa acceptance date is between January 1st and January 31st.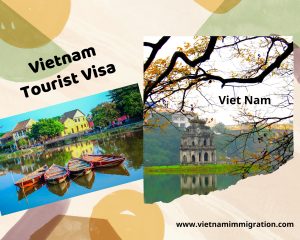 2/ Types of Vietnam Tourist Visas for Portuguese in 2023
Single and multiple entry Vietnam tourist visas are available to anyone holding a passport from Portugal. Travelers from Portugal who hold a multiple entry visa may enter and exit Vietnam as often as they want without having to reapply for a visa each time. If Portuguese visitors instead apply for a single-entry visa, it will expire the moment they leave Vietnam.
Tourists from Portugal may apply for either a single-entry or multiple-entry visa depending on how often they want to visit Vietnam within the same time period.
3/ Ways Portuguese Citizens Can Obtain a Vietnam Tourist Visa in 2023
Tourist visa applications for Vietnam on PORTUGAL passports may be made either in person or online.
3.1/ Visa applications from PORTUGAL nationals can be submitted to Vietnamese embassy or consulate
Portuguese nationals need to gather the required paperwork and submit it to one of Vietnam's embassies or consulates. Portuguese people in search of Vietnam embassies and consulates may do so at https://www.vietnamimmigration.com/category/vietnam-embassy/ .
Visitors from Portugal can apply for a visa to Vietnam at the Vietnamese embassy. Portuguese visa candidates must visit the embassy twice: once to submit an application and again to get their approval or denial letter.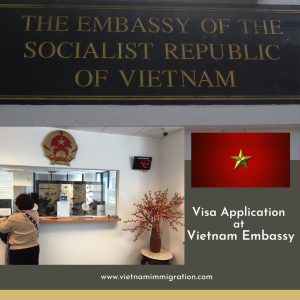 Some embassies prefer that visa applications be sent via mail or email rather than in person so that applicants don't have to wait in line. Applicants from PORTUGAL who are unable to go to the embassy in person may instead inquire with the consular section of the embassy ahead of time as to whether or not they can submit their application through mail.
The processing time for a Vietnam visa is between 5 and 7 business days from the date of application receipt.
3.2/ Applicants from PORTUGAL should apply for a Vietnam visa online
This is the most convenient and fastest method for nationals of Portugal to get a Vietnam visa. These are the papers citizens of Portugal will require in order to apply for a Vietnam visa online:
The Passport (scan or picture of data page)
Individual portrait (without glasses)
Obtaining a visa for Vietnam online through email takes about 3 business days for standard service and just 1 business day for express service. Tourists from PORTUGAL just need to print their visa and present it upon entry into Vietnam.
To get a Vietnam visa on a PORTUGAL passport, just follow these easy steps:
FIRST, APPLY FOR A VISA TO ENTER VIETNAM
Those from Portugal may fill out an online application at https://www.vietnamimmigration.com/apply-vietnam-visa/ .
Fill out: Full name, DOB, Passport number, Nationality, Arrival date, Arrival port, etc.
Select the Most Timely Option (if any)
Remember to use the right email address.
Please include a photocopy of your passport and a recent headshot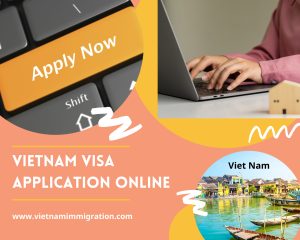 It is now time for Step 2: Review and Payment.
Before submitting a payment, be sure that your details are correct. There may be additional charges for making changes after the fact.
Third, get your visa approved so you may enter Vietnam.
The visa will be emailed to the address provided on the application once 3 business days have passed. After confirming the visa details one more time, print it off and be ready for Vietnam.
Visitors from Portugal should just present their passports and visas upon arrival at any port in Vietnam. When they pass muster, immigration officials will stamp their passports with an official entrance stamp.
We have just finished learning about the requirements for the application process of a Vietnam tourist visa for a Portuguese passport. Please email us at info@vietnamimmigration.com if you have any questions or issues with your visa.