2023 Vietnam Visa
[Vietnam Tourist E-Visa for Indian Nationals in 2023] How to Apply for a Vietnam E-Visa with Indian Passport
The Vietnam Tourist E-visa (Electronic Visa) was introduced officially in February 2017 and has attracted the interest of thousands of visitors wishing to enter Vietnam. Can Indian passport holders get a Vietnam e-visa? How to apply for a Vietnam E-visa as an Indian tourist in 2023? Here are a few key considerations that all Indian travellers should be aware of before applying for an e-visa to Vietnam.
1/ What is the Vietnam Tourist Electronic Visa for Indians?
Since February 2017, the Vietnam Immigration Department has offered Vietnam Tourist E-visa. This kind of visa for Vietnam is applied for and granted online. Vietnam tourist E-visa is only valid for a single 30-day entry.
After a two-year hiatus due to Covid-19, the Vietnam Tourist E-visa was reinstated on March 15, 2022, with the same rules as before Covid-19.
2/ Are Indians qualified to apply for a Vietnam Tourist E-Visa in 2023?
According to Resolution No. 79/NQ-CP of the Government of Vietnam, dated May 25, 2020, the nation list for Vietnam Tourist E-visa comprises of 80 countries, including Indian passport.
Indians may still apply for a Vietnam tourist E-visa online and get visa approval prior to travelling to Vietnam. Tourist E-visas for Vietnam are now accessible to Indian travellers; it takes just a few minutes to complete the internet application.
3/ Applicable Vietnam entry port for Indians with E-visa in 2023
Vietnam Tourist E-visa for Indian air travellers, land border crossers, and cruise passengers is now accessible. It functions properly at one of the 33 entry ports listed below.
https://www.vietnamimmigration.com/vietnam-evisa/accepted-ports-to-enter-vietnam-with-e-visa/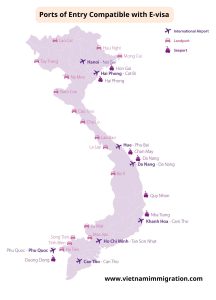 Although there are several Vietnam entrance ports that let Indians to enter with a Tourist E-visa, when submitting their online E-visa application, Indian travellers must choose a particular entry port. After E-visa approval, Indian travellers must enter Vietnam at the port of entry specified in the E-visa approval. If Indian visitors change their port of entry, they must apply for a new tourist E-visa.
4/ Documents required for applying a Vietnam Tourist E-Visa for Indian nationals in 2023
Before filing for a Vietnam E-visa, Indian travellers must have the following items:
A passport valid for six (6) months
A photograph of your whole passport data page in.jpg format
A private photograph in.jpg format (without glasses)
A valid credit or debit card for visa fee payment
An email address for E-visa outcome notification

5/ How to Apply for a Vietnam E-visa as an Indian Tourist in 2023
It is not difficult for an Indian to apply for a Vietnam tourist E-visa by following the procedures outlined below.
Visit https://www.vietnamimmigration.com/apply-vietnam-visa/ to access the official Vietnam Tourist E-visa Application for Indians website.
Complete all fields on the E-visa application form pertaining to the applicant's details.
Complete all fields pertaining to your trip.
Upload your passport data page and picture.
Pay the E-visa charge using any of the available payment options.
Receive your registration code and wait while your E-visa is processed.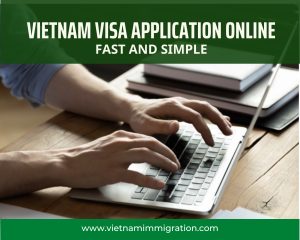 6/ Processing time for Vietnam Tourist E-Visa for Indian Nationals in 2023
It typically takes three working days to process a Vietnam tourist E-visa for Indian. To reduce danger, Indian travellers are advised to submit their Vietnam tourist E-visa applications 1-2 weeks before to departure.
Indian tourists with an urgent travel to Vietnam may choose the "express service" option on the visa application form to accelerate the Vietnam tourist E-visa procedure. With expedited service, Indian travellers may get visa approval within one business day or two hours.
When applying online for a Vietnam E-visa, Indian visitors need just choose the express service and pay the expedited price in order to apply for a Vietnam tourist E-visa. Depending on how quickly you need it, the expedited shipping charge may vary.
If the journey is not time-sensitive, Indian travellers simply forego the speedy service. E-visas will be processed as usual, and approval will be granted after three business days. (Note: The working days do not include weekends or Vietnamese holidays.)
7/ Vietnam Tourist E-Visa Validity for Indians in 2023
Vietnam Tourist E-visa for Indian citizens is valid from the date of arrival listed on the E-visa approval till the date of departure listed on the permission. Indian visitors filing an E-visa application for Vietnam must include the entrance and leave dates:
Indian travellers may enter Vietnam on or after the date of arrival specified in their E-visa approval.
Indian travellers must leave Vietnam prior to the E-visa approval's expiration date
The Vietnam E-visa for Indian tourists is valid for a maximum of 30 days with a single entry. Upon exiting Vietnam, this E-visa will instantly become void.
We have recently researched the Vietnam tourist E-visa for Indian passport holders, including the needed papers, validity, processing time, and application processes for the year 2023. Please feel free to contact us by email at info@vietnamimmigration.com if you have any more questions concerning Vietnam E-visa and admission criteria.